This month, the cashew market is fundamentally different from February. Late crops and large demand cause the prices to go up. Shipments from West Africa remain an issue. Discover the latest figures from Vinacas, followed by our analysis of the crop development and the market. Finally, check out a few pictures of our colleagues' trip to Ivory Coast.
Import
Vietnam imported a total of 126,904 mt RCN in February 2021, which is 130.87% more than in February last year. In January-February, imports increased by 121.34% compared to last year.
On top of that, Vietnam imported 3,302.69 mt of raw cashew kernels with Testa, the equivalent of 14,678 mt RCN. That is -29.51% more than February 2020, but overall, imports of kernels with Testa increased in 2021 by 31% because of large quantities imported in January.
Export
Vietnam exported 22,080 mt of cashew kernels in February 2021. It is 20.79% less than the same period last year. However, since the beginning of the year, exports are still 29.22% above last year, with 69,934 mt exported since January.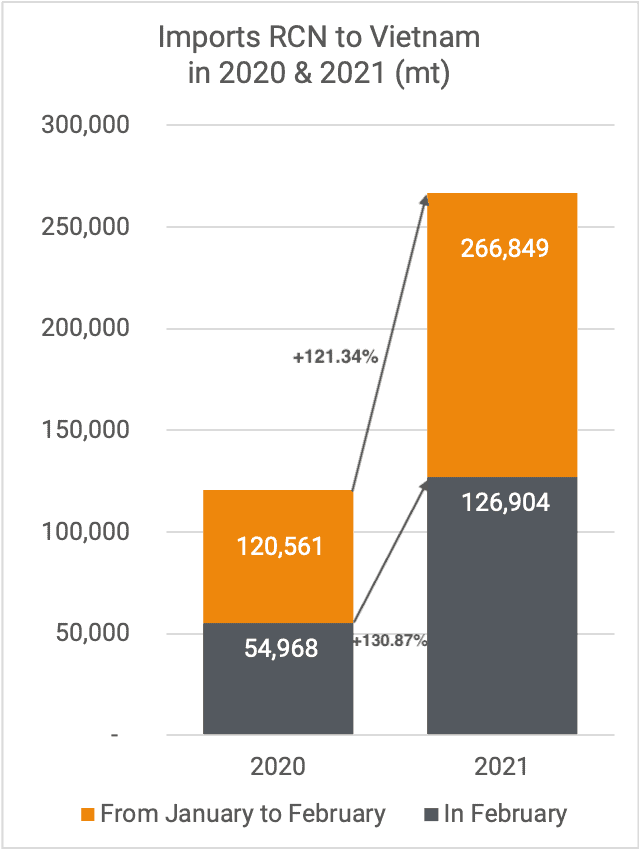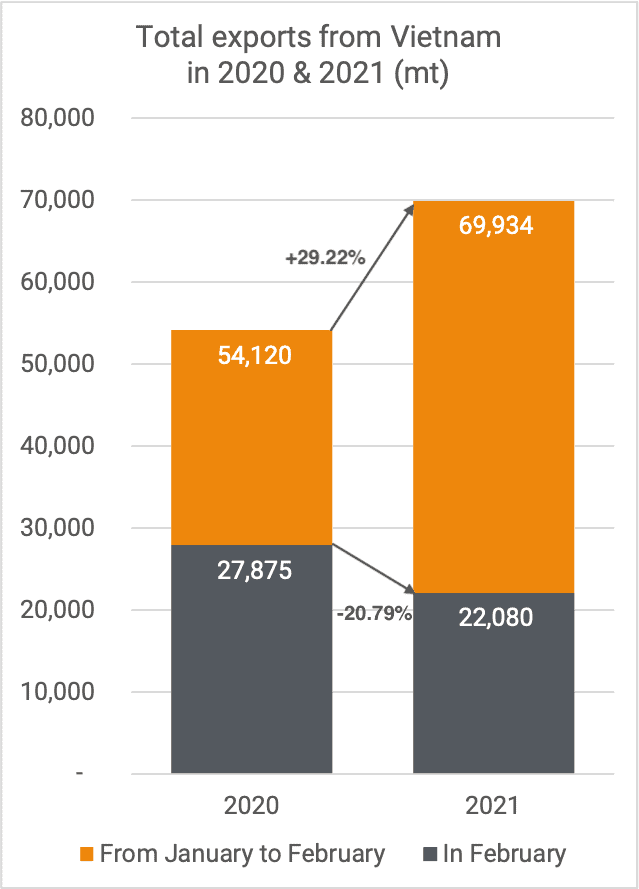 United States
To the USA, Vietnam shipped 4,123 mt in February, almost 55% less than last year. Since January, the total exported to the US is also lower than the same period last year, with 14,672 mt, 12.33% less.
China
1,368 mt were exported to China in February. That is 182.08% more than February last year. Like in January, exports to China are almost two times larger compared to the same periods last year. It seems impressive, but it can be explained by the unusually low exports at the beginning of 2020, related to the Covid pandemic and the lockdowns that had already started in China at this period. 
In the past two months, the total volume exported to China reached 6,842 mt, 197.60% more than the same period in 2020.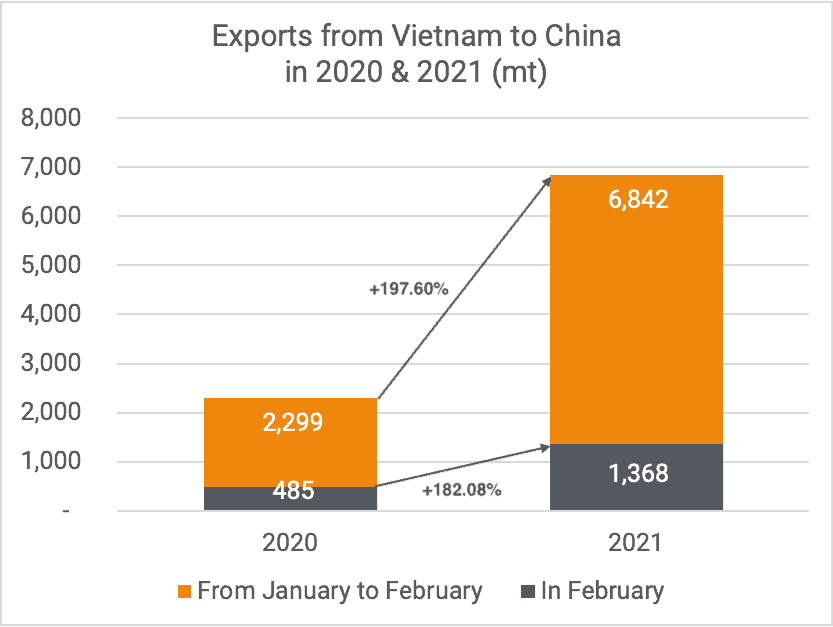 EU & Others
16,589 mt were exported to the EU & Others this month. It is 9.31% less than last year and almost half of what was exported there last month. Nevertheless, total exports in January and February are 38% higher than last year.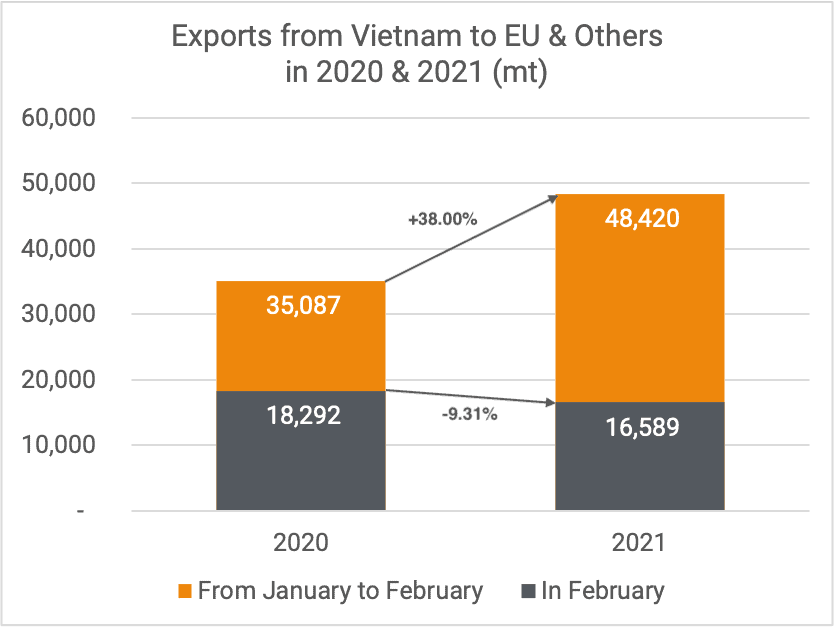 Despite the first crop already harvested in the orchards in Vietnam, the second crop representing most of the volume (70%) seems to be coming late. Harvest was expected to start now, but a few weeks are still needed for most of the fruits to reach maturity. Therefore, the Vietnamese RCN will be coming later than usual in the market. Cambodia and India seem to be facing the same situation. Because of this delay, some fear a lower production. This remains to be seen. The weather has been appropriate so far, and it is too early to conclude. We are optimistic!
Update from our colleagues in Vietnam, 22/03/2021: The farmers said that the crop was a little bit delayed. Binh Phuoc – the largest production area – started being picked up, as well as the Central Highland DakNong, DakLak, and Gia Lai. The plain areas Dong Nai, Ba Ria Vung Tau, will be the latest.
According to some farmers, the harvest volume from their farms could be around 25-30% less compared to 2020 (however, the price of fresh quality increased by 27% in general, which could be a pretty fair makeup for the time being). The overall harvest volume and price remain to be seen after April.
In Binh Phuoc, there were some scattered rainfalls in recent weeks, and the weather forecast keeps indicating the same for the next 10 days, end March/early April. On the positive side, such rain will help water the land and the trees and cool down the hot temperatures. However, on the other hand, the rains will increase the time required for drying and facilitate the proliferation of insects, potentially having a negative impact on the quality.
In Ivory Coast, the first harvest has started. So far, the production is looking good. But farmers have been expecting rains to improve the quality and quantity of the second and third harvests. Some rain fell last week but probably a little bit too late. We received some reports of flowers having dried on the trees. We remain optimistic because the trees can sustain a little drought during this period, and the conditions were good so far. The production should be good in most of the country if rains keep showering the trees regularly from now on..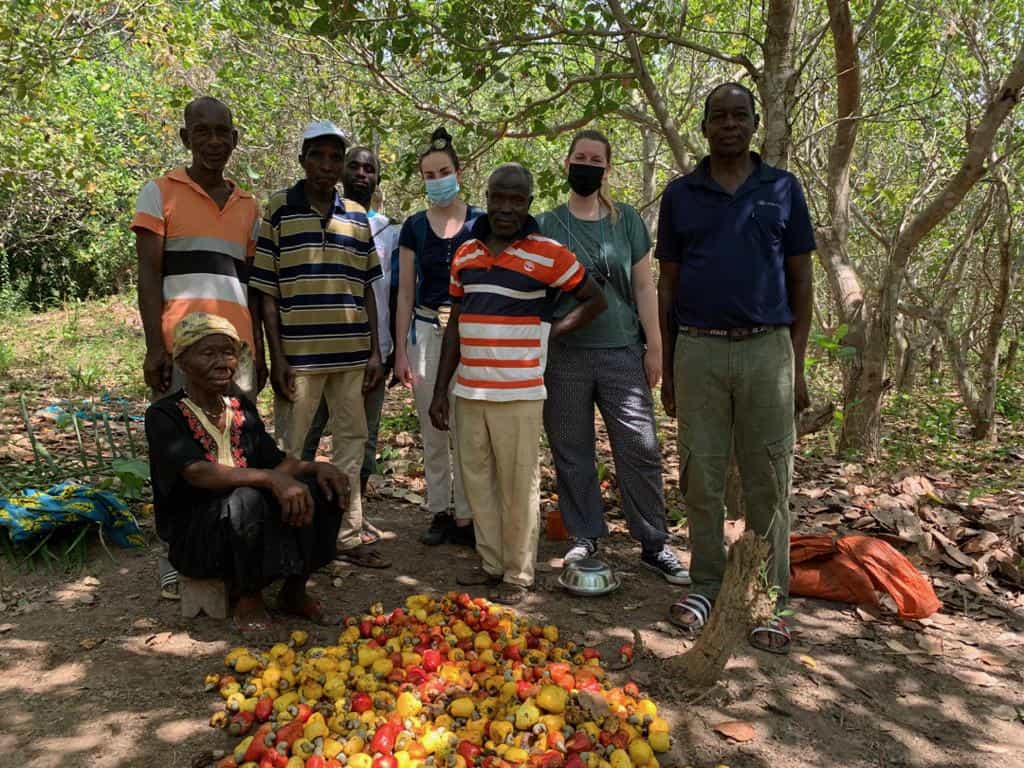 It seems market fundamentals have changed in comparison to last month.
Crops in Vietnam and Cambodia are later than expected. Some will then say, later crops mean shorter crops, but that remains to be seen. If you look at the total imports of RCN, the numbers are staggering, and we cannot imagine there is a real shortage of RCN at this very moment in Vietnam. Kernel production in January and February was much lower than normal due to TET, and when kernel demand started picking up, shippers were quickly sold out for the nearby positions. Buyers turned to spot merchandise in Rotterdam, the UK, as well as NY/NJ, and prices started moving up to USD 3,10-3,20 per lb for W320 ex-warehouse.
With continuous buying interest, shippers became more active on the RCN, and prices moved up quickly from USD 1050-1100 per mt for IVC RCN 48 lbs to levels of USD 1200 per mt CFR HCMC. Consequently, kernel prices started to move up to the levels we see today, which are USD 3,00 per lb FOB for W320's for May onward shipments. For the market to sustain these levels, buying interest should continue even when RCN arrivals in Cambodia and Vietnam start picking up. Eventually, the key to deciding the course of the market will be supply and demand, and at this moment in time, demand is bigger than supply.
In that respect, it is interesting to see that European and American roasters seem to be covered well, especially until July 2021. Some of them are already covered throughout this year. The current nearby buying may have something to do with the uncertainty about shipments from Vietnam, where ocean freight rates continue to be extremely high, and vessel space seems to be extremely tight.
It has been said before, and we will mention it once again, the market should also keep an eye out for the availability of containers and vessel space from West Africa to India and Vietnam. This could be a real game-changer. If and when this turns out to be a real issue, the supply of RCN to India and Vietnam will be compromised. We have heard that some of the major exporters of RCN out of IVC are in the process of chartering breakbulk vessels, enabling them to ship 20-25,000 mt in breakbulk to India and Vietnam to avoid these problems on availability of containers and space.
In about four weeks, we will know a lot more about the crop sizes (and qualities) in Cambodia, Vietnam, and Ivory Coast. In combination with new import/export figures from Vietnam, it will give a much better picture of the overall market. Will the market continue its upward trend, or will the larger availability of RCN change that trend? To be continued…
Pictures of our colleagues' visits to cashew farmers in Ivory Coast