Large exports of cashew kernels from Vietnam compared to last year, some information about the new crop that keeps developing well, and the latest market trends are included in this report. Like each month, we first present the import and export figures for January from Vinacas, after which we give you our vision of the production and the market.
Import
Vietnam imported a total of 139,945 mt RCN in January 2021, which is 113.35% more than in January last year.

On top of that, Vietnam imported 7,401.55 mt of raw cashew kernels with Testa, the equivalent of 32,895 mt RCN. That is 111.62% more than the same month last year.
Both imports of kernels and kernels with Testa more than doubled this month compared to January last year.
Export
Vietnam exported 47,854 mt of cashew kernels in January 2021. It is almost 5,000 mt less than last month but a considerable increase compared to the previous year. 
Exports in January 2021 are 82.32% higher than in January 2020. As visible in the graphs below, the exports to all destinations have increased.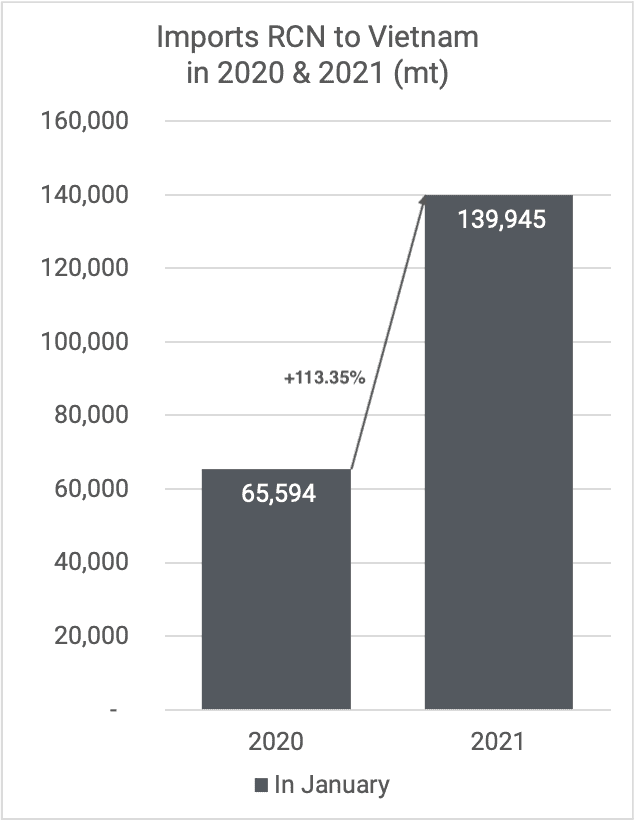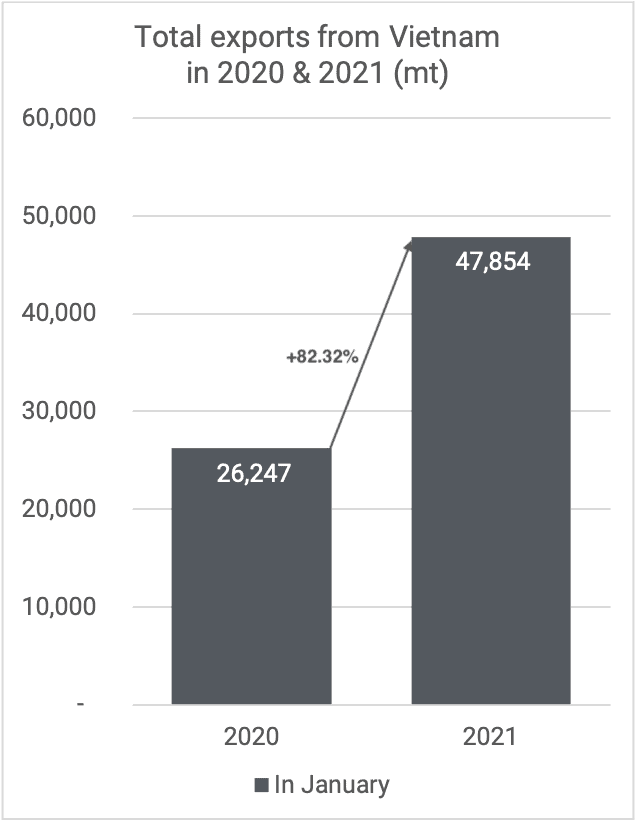 United States
To the USA, Vietnam shipped 10,549 mt in January, 38.12% more than last year.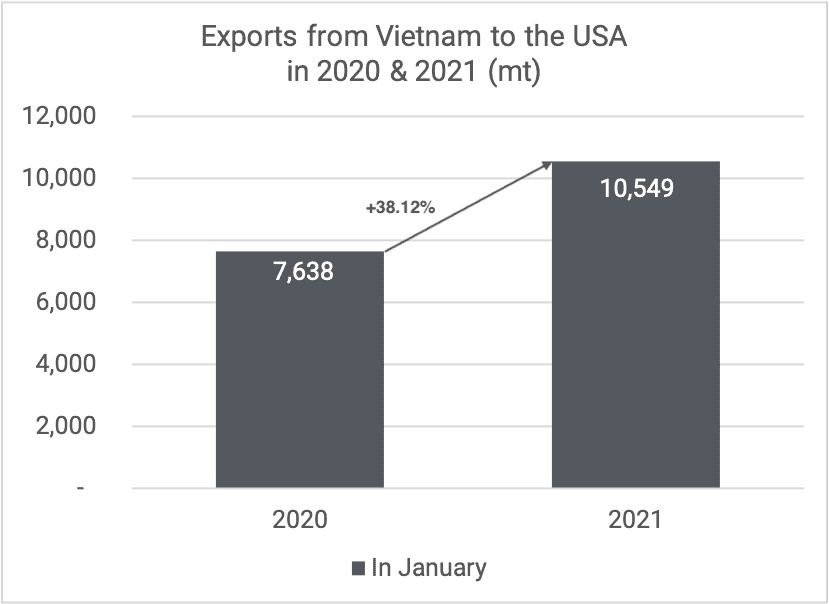 China
5,473 mt were exported to China in January.
That is 201.75% more than January last year.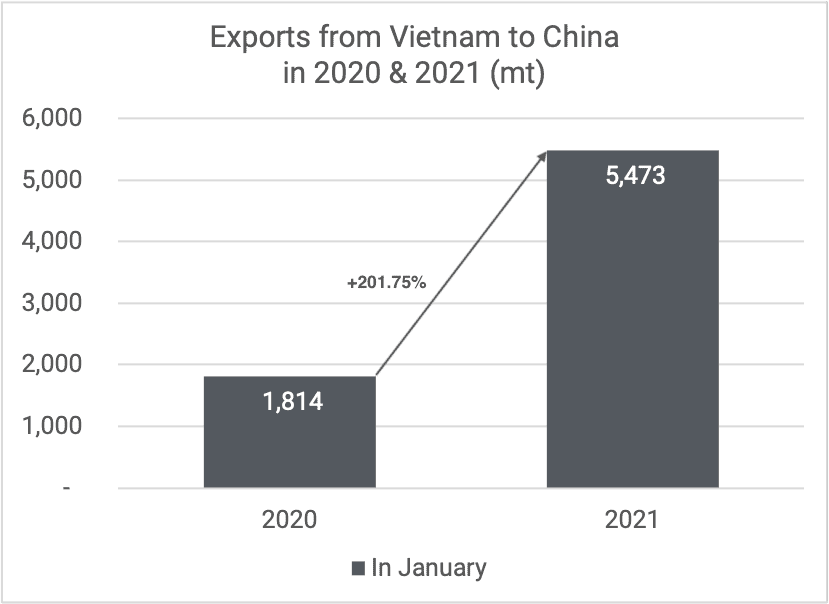 EU & Others
31,831 mt were exported to the EU & Others in January 2021. That is 89.52% more than last year.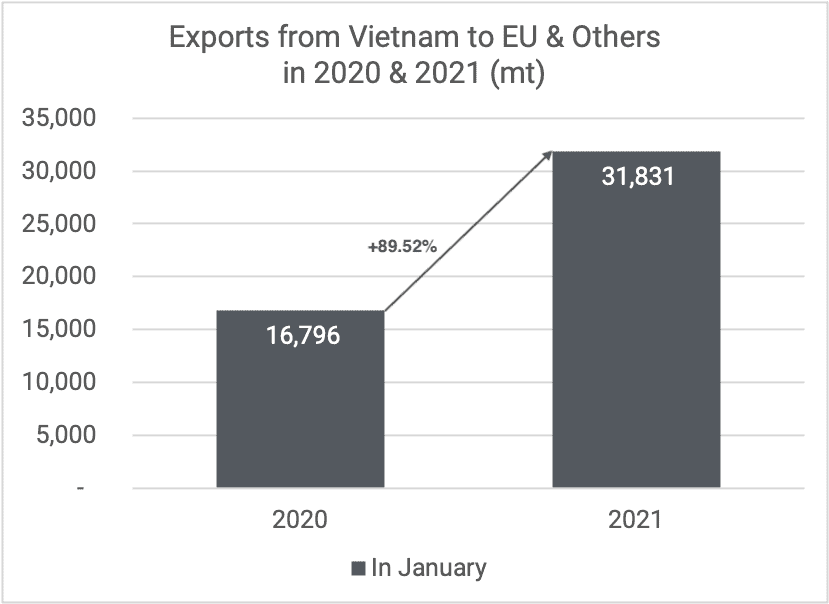 Production in Vietnam is looking good. We received some updates from farmers saying that they started to pick up the apples of the first crop from the ground. Fruiting and harvesting will gradually increase in the coming weeks. Harvest of the first crop (about 30% of the volume) will last until mid-March, and the main crop (70% of the volume) should be harvested in late March until April. The weather and growing conditions have been good, and farmers are expecting relatively good quality and quantity.
Crop from the neighboring country, Cambodia, should be of similar quality.
In West Africa, the growing conditions have also been fair. The campaign started two weeks ago in Ivory Coast with a minimum price of 305 FCFA/kg at farm gate. The crop looks relatively good from what we heard, despite a weaker Harmattan this year (Harmattan is a dry wind coming from the Sahara in the dry season, bringing sand and cooler temperatures). We are expecting a crop of an average-to-good size.
We observe that cashews are already attractively priced, especially for European roasters, because they benefit from a strong Euro against the Dollar.
If we look at crop developments in India, Vietnam, Cambodia and West Africa, we feel it is safe to say that there doesn't seem to be a problem on the supply side.
In addition, currently, there are large stocks of RCN still available in Vietnam and India and there are abundant kernel stocks in Europe and the US.
Roasters in both the EU as well as the US seem to be covered very well for the first 6 months of 2021, and with all the positive news from the various origins, they do not feel any pressure to come to the market.
On the other hand, we must keep an eye on Covid outbreaks, for instance in Vietnam, which could disturb production and consequently distribution of goods. So far, the Vietnamese authorities have done an excellent job containing the virus and the country did not experience any significant outbreak. We certainly hope that this will continue however it remains to be seen what the consequences will be from lots and lots of people travelling throughout Vietnam during the TET holidays. In the cashew industry we are all very dependent on Vietnam as an origin and a disruption in supplies from there, will change the market significantly.
We also want to point out that availability of empty containers and vessel space from West Africa to Vietnam and India could become a serious problem. This may seem farfetched but we all should pay attention.
Freights from West Africa to Vietnam/India are relatively cheap and once the shipping lines have these containers in the Far-East, they can use these for more price attractive destinations such as the EU and/or the USA.
Last but definitely not least, we should always consider the fact that the downside is limited.