Yesterday, we received the import and export figures for August from Vinacas. This is a quick recap of the figures compared to last year and our overview of the current market situation.
Import
Vietnam imported a total of 231,674 mt RCN in August which is 20.11% more than last year during the same period. It brings the total imports for 2020 at 1,082,361 mt RCN, slightly less than last year. 
On top of that, Vietnam imported 5,485 mt of raw cashew kernels with Testa and white kernels which makes the total for this year at 36,895 mt, the equivalent of 163,978 mt RCN.
Export
Vietnam exported 48,260 mt of cashew kernels in August 2020. It is 5.26% more in comparison to August 2019. Since the beginning of the year, Vietnam exported 10.90% more than during the same period last year. A total of 322,406 cashew kernels were exported.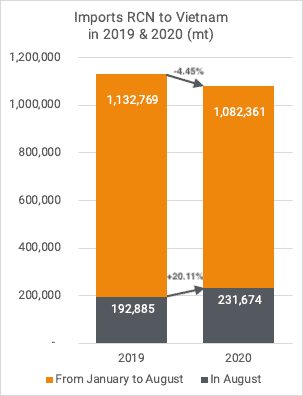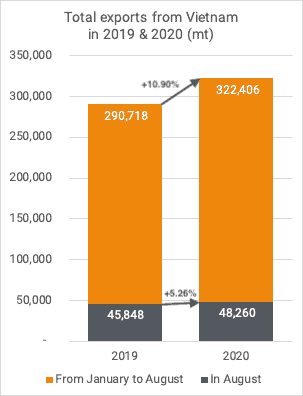 United States
To the USA, Vietnam shipped 14,189 mt in August, 6.19% more than last year. During the period January-August 2020, the exports to the USA increased by 13.28% to 99,011 mt.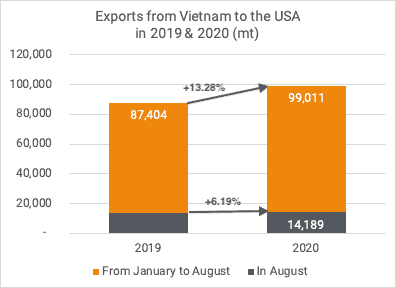 China
Exports to China are still low compared to usual, with 5,524 mt exported in August and 28,312 mt since January 2020. That is respectively 14.02% and 26.27% less than last year.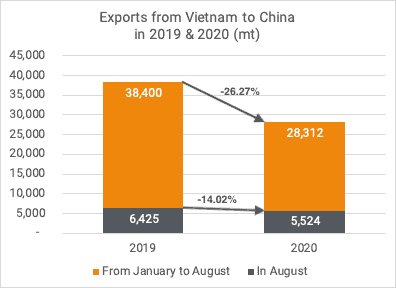 EU & Others
To the EU & others, Vietnam shipped 28,547 mt which was 9,53% higher than August 2019. The total for the EU & others so far in 2020 is 195,082 mt meaning 18.30% higher than last year.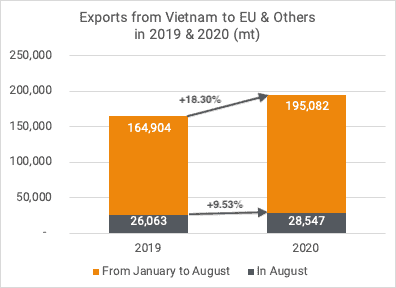 Despite the much lower exports to China, total exports for the period January-August 2020 from Vietnam have increased significantly with the USA buying almost a third of the volume exported and Europe around 60%.
As predicted in our last month's report, the market has firmed up with HACCP shippers now indicating to be sellers at USD 2,80 per lb FOB for W320 for nearby positions.
BRC certified shippers are offering at USD 2,85-3,00 per lb FOB.
Prices for 2021 are just a touch higher.
Nearby demand remains sluggish with buyers covered and abundant stocks available in the EU as well as the USA. Forward demand for 2021 positions has picked up significantly especially from US roasters.
Although reports suggest that there is still 150,000 mt of RCN left in warehouses in IVC, the quality of these stocks is questionable. These stocks are being offered as 45 lbs outturn but in reality, the outturn does not exceed 40 lbs.
RCN stocks in bonded warehouses in Vietnam are in financially strong hands and as a result shipper in need of RCN will have to pay higher prices for their raw material.
Just recently business was done on GB RCN 53 lbs at USD 1325-1350 per mt CFR HCMC which is clearly much higher than the prices shippers were buying at recently.
The availability of good RCN is getting tighter and tighter, and soon shippers will be dependent on new crops out of Indonesia as well as Tanzania. As mentioned previously these origins are normally offered at a premium and we already heard as a first indication for Indonesian RCN USD 1425 per mt, which according to other sources is low since they heard even higher prices… If these are the new prices for raw materials with which Vietnamese shippers will have to calculate, it seems only logical for kernel prices to continue to go up.
On a more bearish note, demand from China and India is clearly down in comparison to last year.
Imports and exports in India have largely reduced since June. Because of Covid-19, India's economy has entered a deep recession, and now, despite the lockdowns, it is the second country with the highest number of cases after the United States. As measures against Covid-19 remain strong, it is unclear when activities and consumption will resume to normal.
In our last report, we wrote about the fact that Vietnam saw an increased amount of Covid-19 cases and we feared that if this would continue, it eventually could have a serious impact on the production of kernels. At this moment in time, however, it seems that the Vietnamese government has taken the necessary steps (again) to contain the virus. Bars and restaurants in big cities are allowed to open again and the Vietnamese government is even planning to allow traveling to nearby countries after September. It seems therefore save to say that the production of kernels will not be impacted due to Covid-19.
Whereas we do think that short term prices might increase further, it remains to be seen how much further and how much longer. There are many uncertainties to take into consideration.
New Covid-19 cases are on the rise for instance in the EU. Will EU countries go back into lockdowns again in October or November?
Will that result in increased demand for various products in general and nuts in particular like we saw earlier in April and May of this year?
Will current (still attractive) cashew prices in combination with a weak USD against the Euro result in increased demand from EU roasters?
With abundant stocks available in the USA as well as the EU, will importers continue to pick up the nearby offers at discounted prices or will they wait until more is known about the new crops out of India, Vietnam and Cambodia?
Last but not least, according to the National Weather Services (Climate Prediction Center), the climatic event "La Niña" is happening now and there is a 75% chance that it will continue throughout the northern hemisphere winter. In general, the consequences of La Niña are drier weather in South America and rainier conditions in South-Eastern Asia until December.
In Vietnam, the dry season usually starts around December, allowing cashews trees to blossom. The possible rainier weather could result in later flowering hence could impact total production, but it will depend on the intensity and the duration of the phenomenon.
We hope you all stay safe.