Yesterday, we received the import and export figures for the month of July from Vinacas. This is a quick recap of the figures compared to last year.
Vietnam imported a total of 216,078 mt of RCN in July 2020 which was slightly less than one year ago. The total quantity of RCN imported in Vietnam for the period Jan-July 2020 now stands at 850,687 mt which is about 9,5% less in comparison to the same period in 2019.
On top of the RCN, Vietnam imported 4,451 mt of shelled kernels with skin which makes the total for the year thus far 31,410 mt which is the equivalent of about 140,000 mt RCN!
Vietnam exported a total of 41,713 mt of cashew kernels in July 2020 which was 7,06% less in comparison to last year July. The total quantity of exports from Vietnam for the period Jan-July 2020 was 274,146 mt which is 11,96 % more in comparison to the same period in 2019.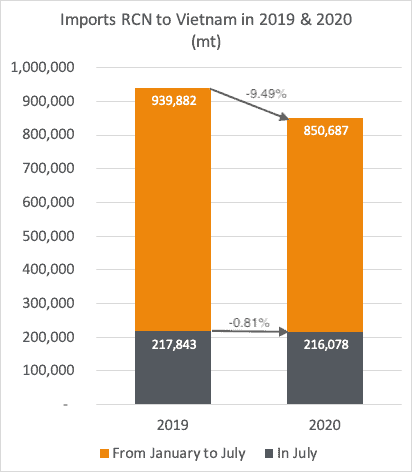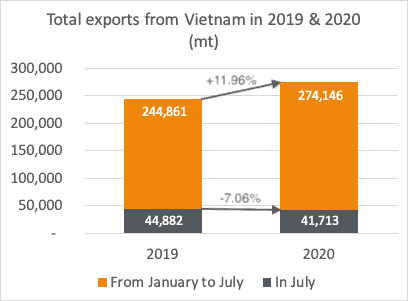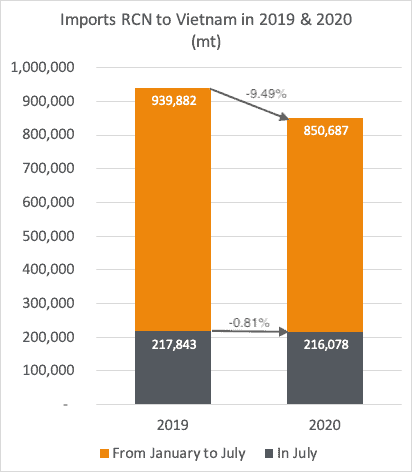 United States
To the USA, Vietnam shipped 10,721 mt in July which was 26,55% less than last year, however, in the period Jan-Jul 2020 the exports to the USA were 84,823 mt a 14,56% increase in comparison to the same period in 2019.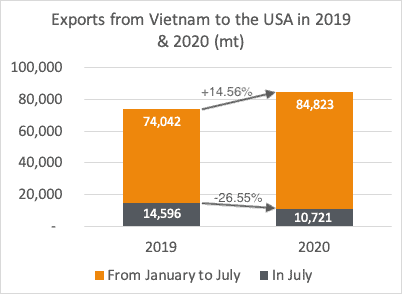 China
To China, Vietnam shipped 4,147 mt in July which was 22,72% less than last year. Total to China this year thus far is 22,788 mt which is 28,73% less than in 2019.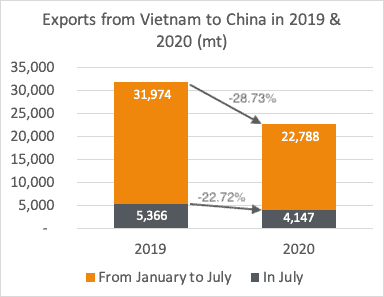 EU & Others
To EU & others, Vietnam shipped 26,845 mt in July which was 7,72% higher than July 2019 and the total to the EU & others for 2020 thus far is 166,535 mt which is 19,94% higher than in the same period in 2019.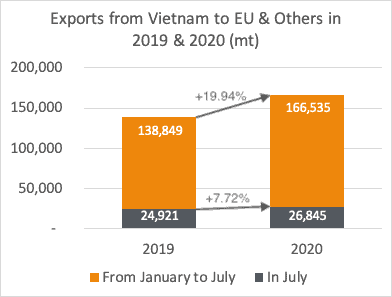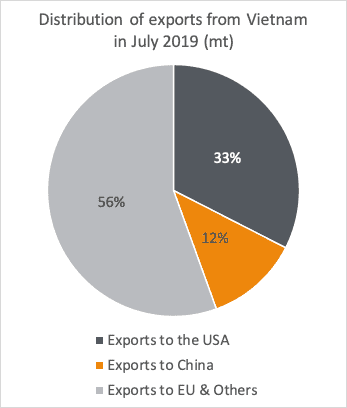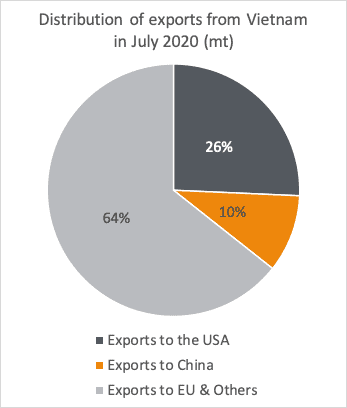 The kernel market is slowly but surely firming up, however, the quietness on the nearby is, in our humble opinion, the reason why the market has not yet jumped to higher levels. Vietnamese shippers are still pushing for sales on the nearby and apart from importers who like to buy at discounted prices, roasters are not interested in buying for the simple reason they are covered.
Importers are indicating to be buyers at USD 2,65-2,70 per lb for Sept-Dec 2020 against offers between 2,70-2,75 per lb from certified shippers.
For later positions into 2021, EU & USA buyers are looking at USD 2,70-2,75 per lb FOB against indications from certified shippers at USD 2,80 per lb FOB.
On a more bearish note, demand from China remains sluggish.
India, regretfully, is being hit hard by Covid-19 and cashew consumption might be considerably less than last year since festivals are cancelled.
Availability of cheaper but good quality RCN is tight plus the fact that we have the feeling that whatever is leftover is in the hands of only a selected group of shippers/traders. Just recently, T&T announced the purchase of 150,000 mt of RCN from Ivory Coast which on one hand tightens the availability of further RCN in Ivory Coast and on the other hand is proof of the fact that larger quantities are in the hands of financially strong companies.
Offers for RCN from Guinea-Bissau are at much higher levels in comparison to what the shippers have thus far been able to buy at and we expect the next crops from Tanzania as well as Indonesia to also be priced at a premium.
Vietnam has done a remarkable job on containing Covid-19, however, regretfully on July 31st, the first death from Covid-19 was reported and soon thereafter more deaths and more affected people were reported.
The Vietnamese government, in an attempt to contain the virus, decided a lockdown in the affected area and is considering a total lockdown if the numbers continue to rise. Obviously, if that happens, the impact on the production of kernels will be significant.
In some parts of the world the virus appeared and eventually authorities were able to get the situation under control, however, in other parts of the world, the virus spread widely and authorities were not able to contain it. Many virologists already predicted that in the fall of this year, the virus would surge back and looking at what is currently happening, this surge might already be happening in many parts of the world again.
It obviously remains to be seen how a second wave of this terrible pandemic will affect our world, our lives and our consumption patterns.
We hope you all stay safe and far away from the virus.