The cashew market is relatively quiet at the moment, there seem to be enough cashews; however, the issue is more the location of the available cashews. Incredibly high ocean freight rates and lack of space on vessels are still causing trouble. Read more about this and a breakdown of the Vinacas import and export figures for June in this month's cashew market report.
Import

Vietnam imported a total of 309,473 mt RCN in June 2021, which is 52.13% more than in June last year. In January-June, imports increased by 184.21% compared to last year, with a total of 1,803,633 mt RCN so far.
On top of that, Vietnam imported 10,005.74 mt of raw cashew kernels with Testa, the equivalent of 44,469.96 mt RCN. That is 130% more than June 2020, and overall, imports of kernels with Testa increased in 2021 by 87%.
Export
Vietnam exported 62,515 mt of cashew kernels in June 2021. It is 47.41% more than the same period last year. Exports are still 23.08% above last year, with 286,084 mt exported since January.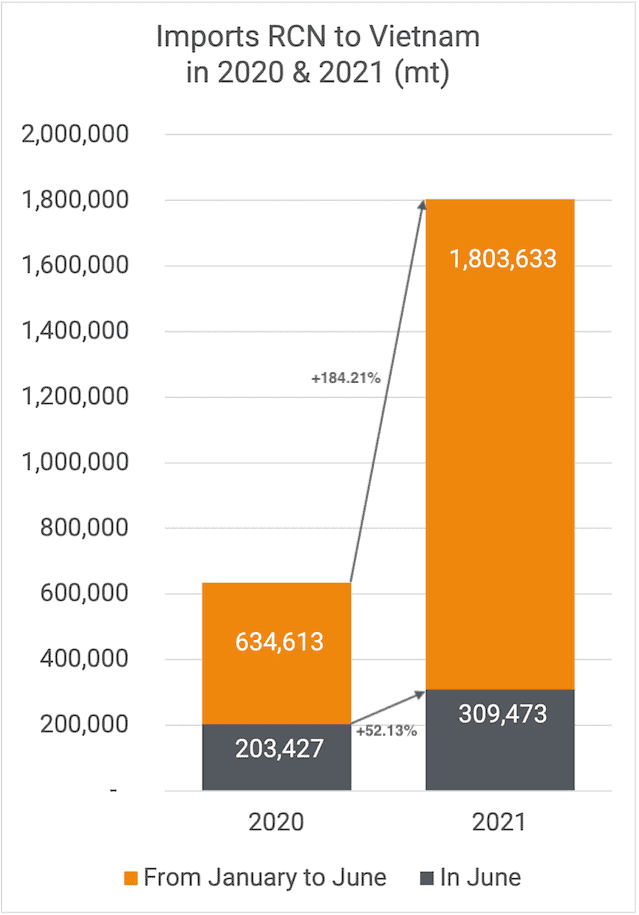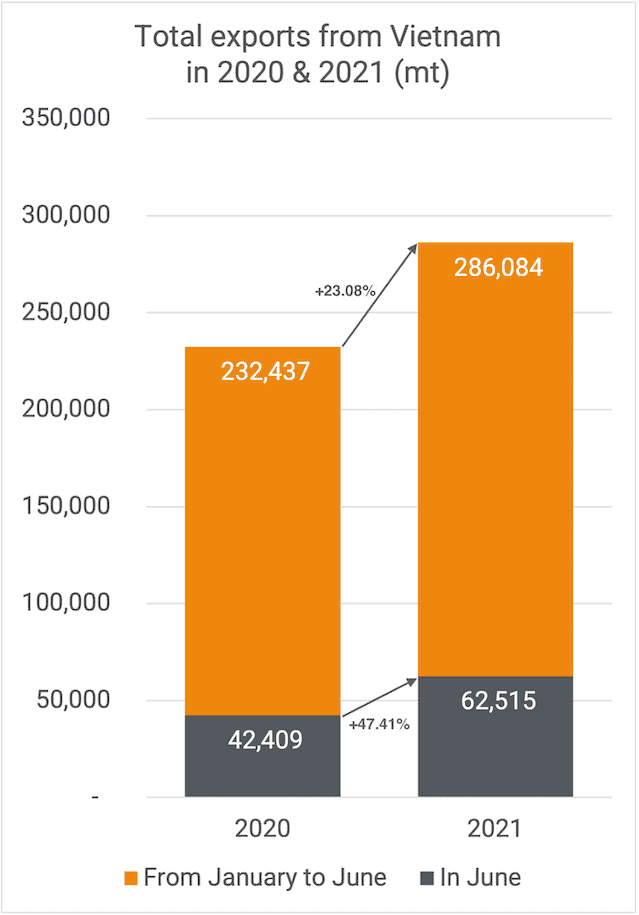 Distribution of the imports
We already mentioned it before in one of our previous cashew market reports: Vietnam has been importing a surprisingly high number out of Cambodia this year. Although most of the imported RCN in the month of June came from other countries (i.a. Ghana, Nigeria, etc.), you can see below that so far, 55% of this year's total is imported from Cambodia. This is based on the figures we received from Vinacas this month, and it is significantly different from last year.
Distribution of the exports
United States
To the USA, Vietnam shipped 20,360 mt in June, almost 88% more than last year. Since January, the total exported to the US is slightly higher than the same period last year, with 75,034 mt, which is 1.26% more.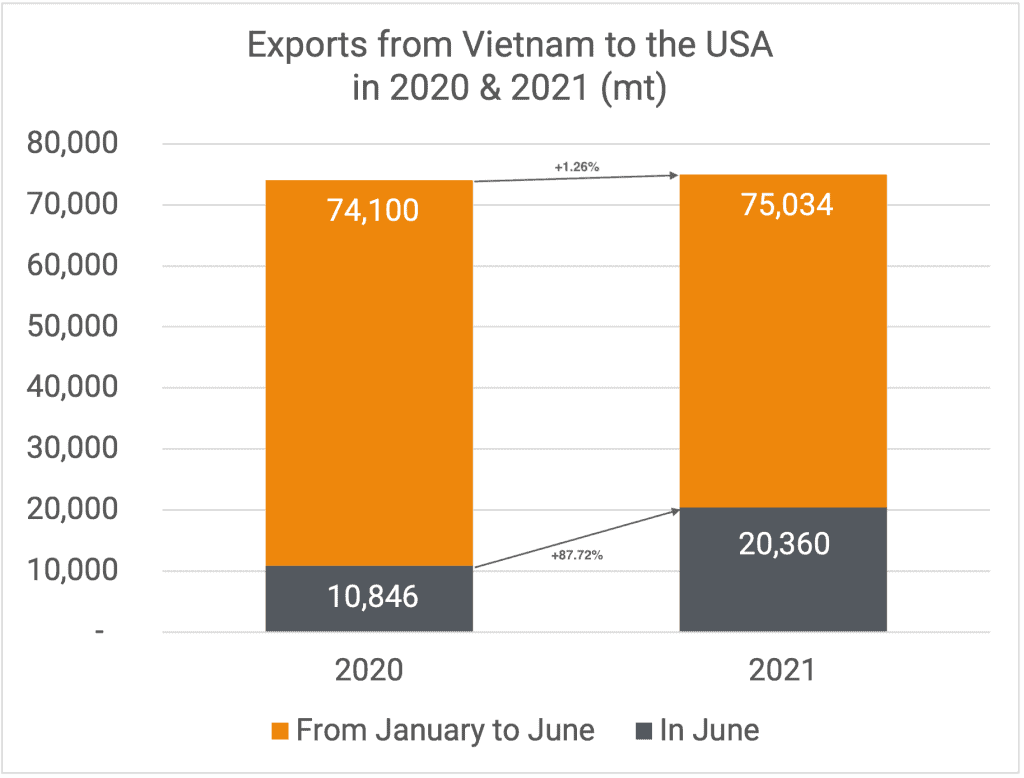 China
5,115 mt were exported to China in June. That is 2% less than June last year. In January-June, the total volume exported to China reached 27,938 mt, which is almost 50% more than the same period in 2020.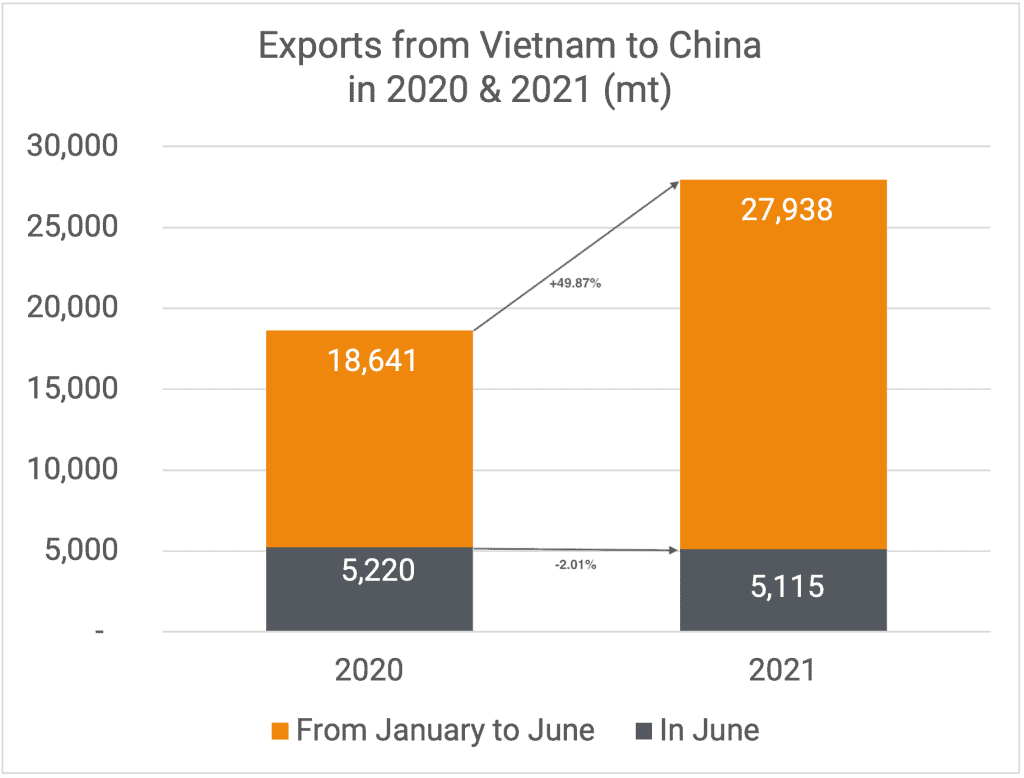 EU & Others
37,040 mt were exported to the EU & Others this month. It is 40.60% more than last year. Total exports in January to June are 31% higher than last year.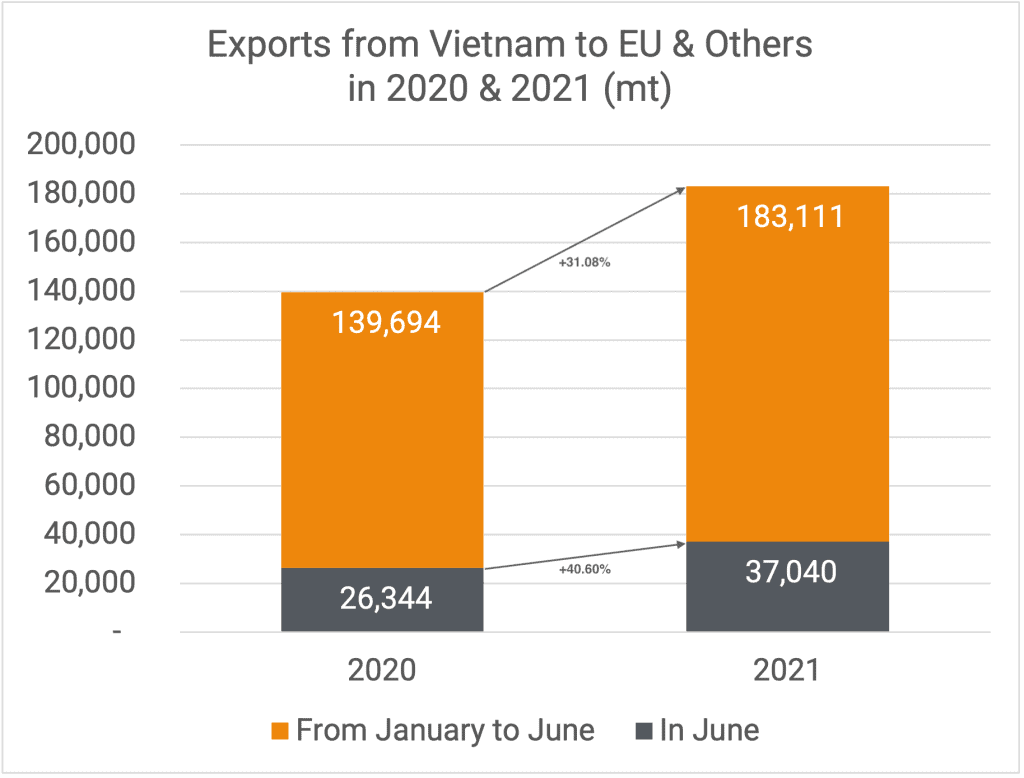 The market is relatively quiet, and prices have been in the range of USD 3,20-3,30 per lb FOB for W320 for quite some time now.
While ocean freight prices and container space limitations have been and continue to be a major concern for all the shippers/importers, the Covid situation in Vietnam is regretfully worsening, which will most likely affect the availability of cashews in the near future.
Ocean freight prices continue to increase, and the limited space availability is making life very difficult for shippers/importers. In the short term, these higher rates are being absorbed by the importers who buy FOB and sell CFR or ex-warehouse in Europe and/or the USA, so they are unable to increase prices based on the higher freights. The spot market, however, does consider these factors and this is why we see prices for W320's in the range between USD 3,80-3,90 per lb on an ex-warehouse basis.
Long-term higher freight rates are obviously taken into consideration when making offers; however, shipping lines tend to increase their rates almost every two weeks, making it extremely risky to make offers for 2022 since no one knows what to calculate with freight wise.
In a recent article from Port Technology we read that carrier profits are to surpass USD 100 billion in 2021, so we are glad to see that at least some companies are making money…
We do hope the carriers realize that many companies are hurting from these higher freight rates, and obviously, it is the consumer who ultimately will pay for these exorbitant freight rates.
As mentioned many times before, Vietnam was doing a remarkable job containing Covid however the last couple of months, even in Vietnam, things have gotten out of control. Daily new cases are up to 4000, and the government has taken severe measures like a 2-week lockdown of Ho Chi Minh City and its surrounding provinces. Factories are required to strictly follow the Covid protocol, which requires the factories to arrange sort of camping grounds for workers where they eat, rest, and sleep so they don't have to leave the premises. Factories which are unable to manage this are being shut down temporarily.
Availability of cashews is not really an issue; however, the location of these cashews is. Vietnam has imported a huge amount of RCN thus far this year and has also exported a record amount of kernels. However, we all should continue to pay attention to the freight situation as well as the Covid situation in Vietnam, which can both change the direction of the market.
Stay safe!