As we said before, we believe there is no problem with the availability of RCN/cashews; the import figures show that Vietnam has enough cashews, yet the prices are going up. The lockdown in Vietnam has been extended, importers are still experiencing issues with shipping, and political interference does not seem to be helping at the moment. Read more about this and a breakdown of the Vinacas import and export figures for July in this month's cashew market report.
Import
Vietnam imported a total of 348,723 mt RCN in July 2021, which is 61.39% more than in July last year. In January-July, imports increased by 153.01% compared to last year, with a total of 2,152,356 mt RCN so far.
On top of that, Vietnam imported 9,534.94 mt of raw cashew kernels with Testa, the equivalent of 42,377.51 mt RCN. That is 114% more than July 2020, and overall, imports of kernels with Testa increased in 2021 by 65%.
Export
Vietnam exported 59,061 mt of cashew kernels in July 2021. It is 41.59% more than the same period last year. Exports are still 25.90% above last year, with 345,145 mt exported since January.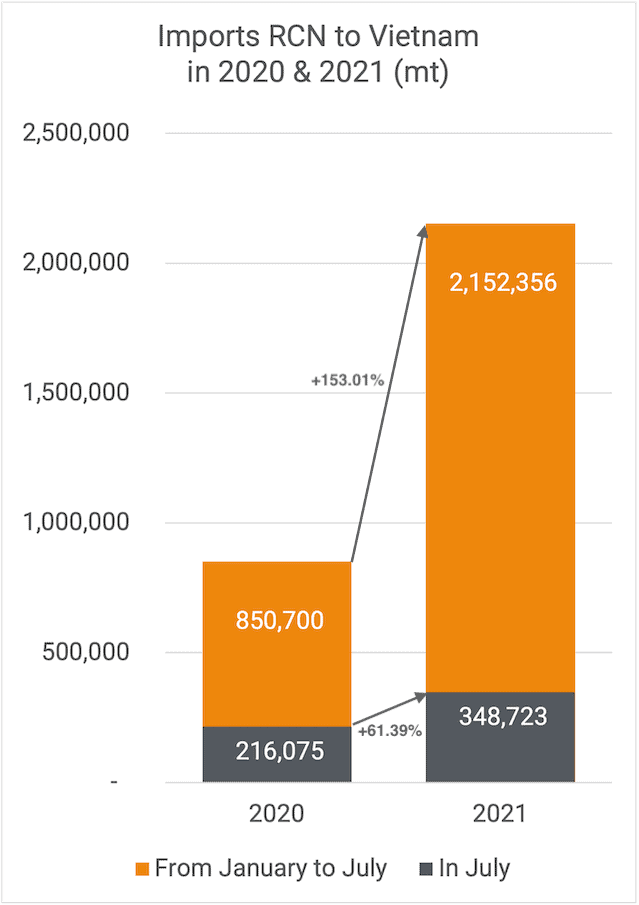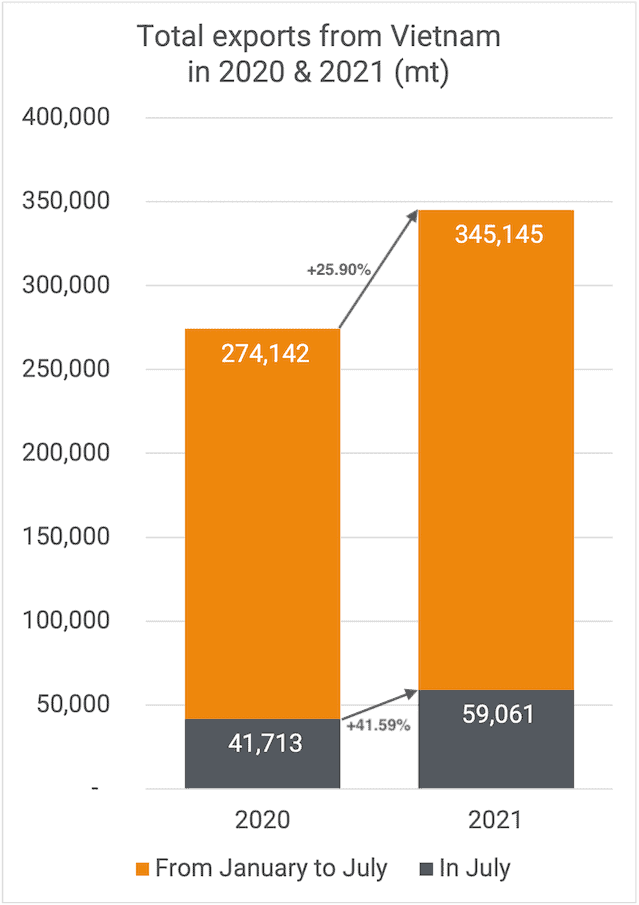 Distribution of the exports
United States
To the USA, Vietnam shipped 16,398 mt in July, almost 53% more than last year. Since January, the total exported to the US is slightly higher than the same period last year, with 91,433 mt, which is 7.79% more.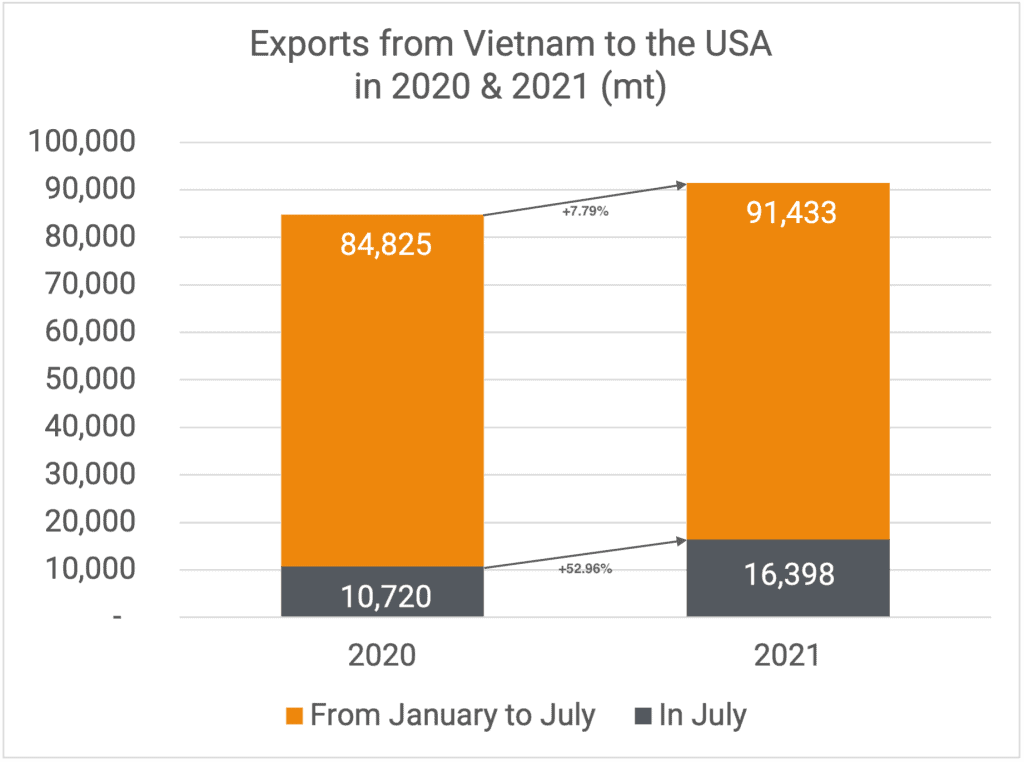 China
4,143 mt were exported to China in July. That is almost equal to July last year. In January-July, the total volume exported to China reached 32,081 mt, which is almost 41% more than the same period in 2020.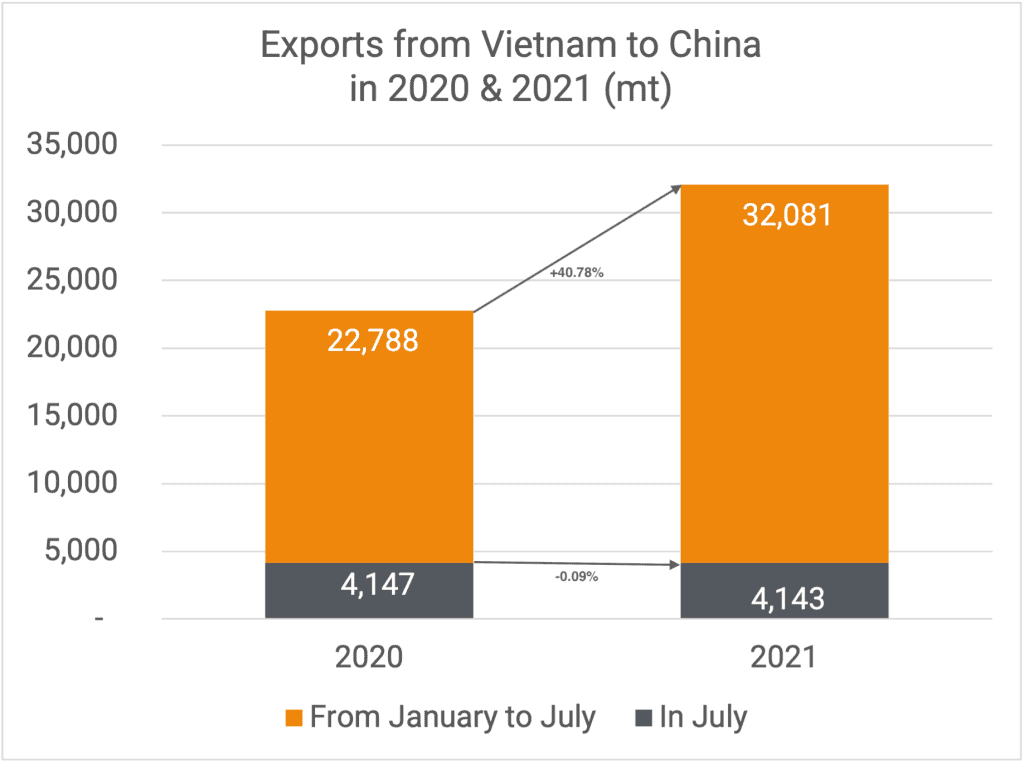 EU & Others
38,520 mt were exported to the EU & Others this month. It is 43.49% more than last year. Total exports in January to July are 33% higher than last year.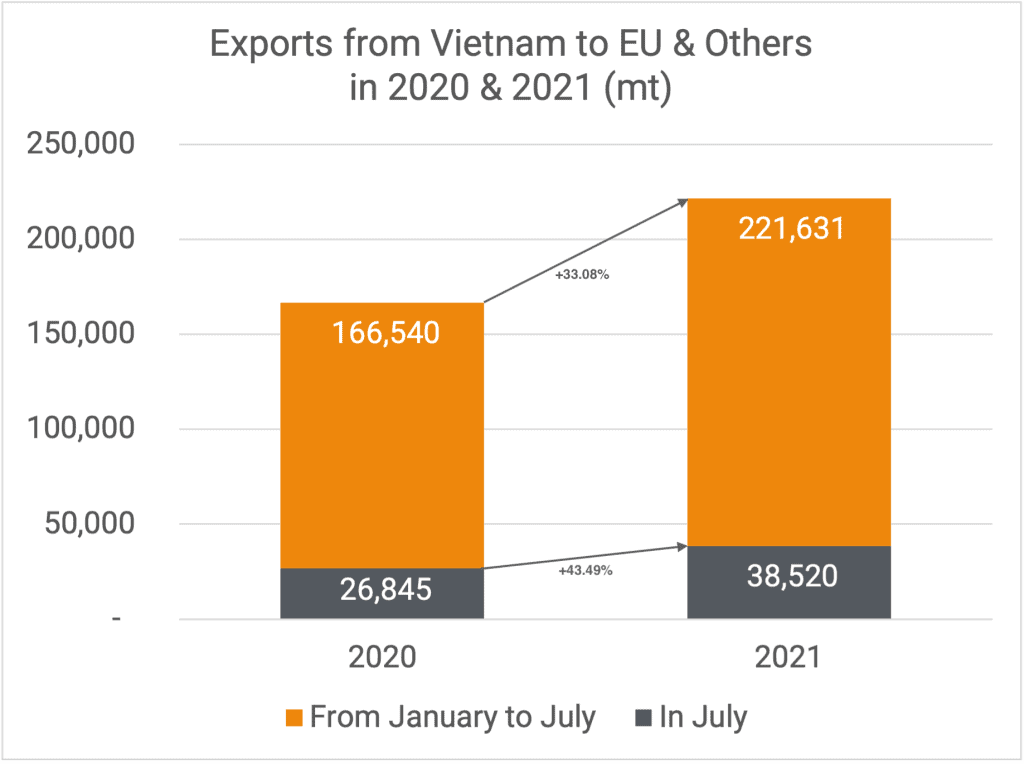 We continue to be of the opinion that there is no problem as far as the availability of RCN/cashews is concerned. However, the major problem is that these available cashews are in Vietnam, and there are plenty of problems getting these shipped to consuming countries.
The import figures also show that Vietnam has enough cashews and there is an interesting article about this on Produce Report (translated from Chinese).
We must admit that the total quantity of RCN exported from Cambodia to Vietnam keeps baffling us (read more about this in our report from May). 1,072,997 mt in the first 7 months of 2021. This must make Cambodia the biggest producer of cashews in the world, surpassing Ivory Coast. It also means that the supply/demand calculations need to be adjusted significantly since most market participants/organizations are estimating Cambodia at 250,000 mt, for instance, shown in the Estimated World Cashew Production of the INC.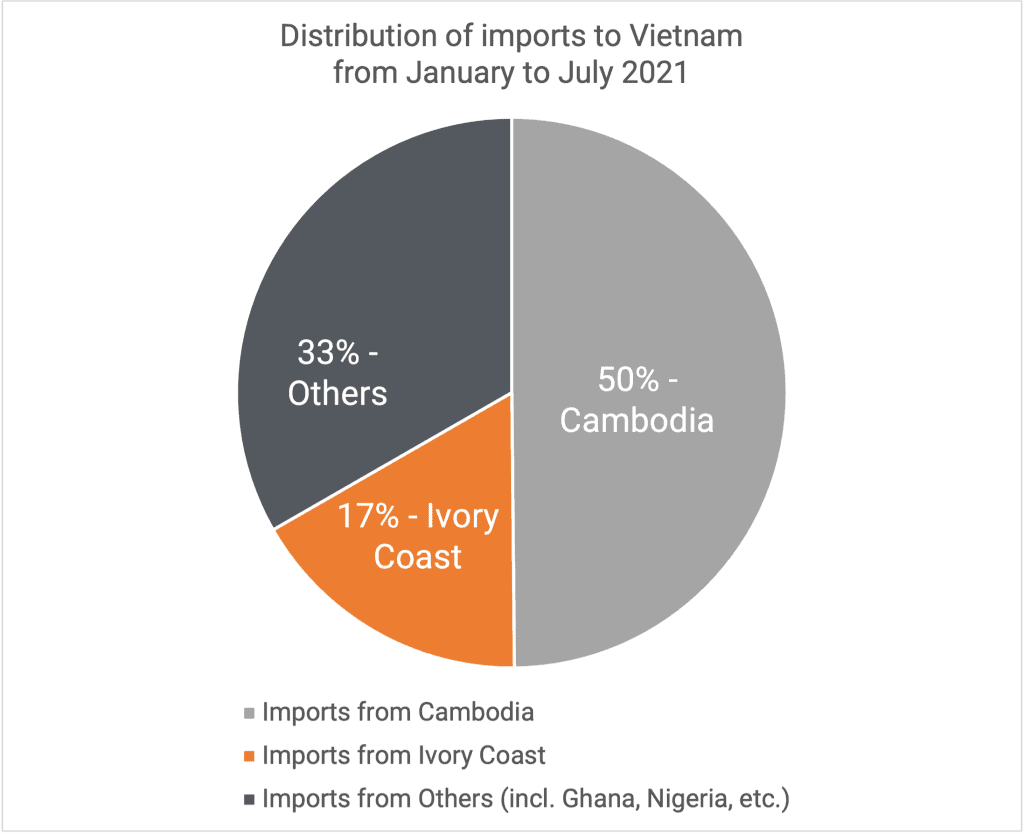 Market activities seem to be picking up, and as a result, cashew prices are moving up again. The latest prices from Vietnamese BRC packers are now in the range of USD 3,30-3,35 per lb for W320 for October-December 2021 shipment. There is still some coverage to do for this year (due to shipment and quality problems), and it is expected that some major retailers will start looking for offers for their 2022 needs within the next 4-6 weeks resulting in more buying interest.
Importers are having difficulty fulfilling all their sales contracts, not because there are no cashews available but primarily due to the container space limitations.
Another reason is that the quality of the cashews shipped lately from various Vietnamese shippers is hardly meeting standard AFI specifications and, as a result, get rejected by roasters (the final buyers). It seems that the higher the FOB price for cashews, the less the quality of the cashews shipped. We feel this is a subject Vinacas should address with its members.
As far as Covid is concerned, the Vietnamese government has decided to extend the lockdown until September 15th, 2021, and we genuinely hope the situation will improve significantly. As far as cashew processing is concerned, keeping a close eye on this situation is recommended. If the Covid situation does not improve and even stricter measures are needed, the production of cashew kernels will definitely be compromised.
More and more cashew processing factories are being constructed in Ivory Coast, which we applaud and which we wholeheartedly will support. Competition is good for everybody, and the fact that more and more quantities of good quality cashew kernels are also going to be produced in Ivory Coast will hopefully trigger the Vietnamese shippers to improve quality again.
We may sound like a broken record, but freight rates and lack of container space continue to be one of the factors why cashew prices have gone up considerably.
More and more shipping lines are reporting extremely good profits. Hapag-Lloyd was the latest to report an EBITDA of USD 4,2 billion for the first 6 months of 2021, and whereas we wish everybody the very best, we do appeal to their responsibility as well since many companies in various industries are significantly hurt by these outrageous rates.
We understand in the meantime that a lot of opposition from different angles is being formed, and some are definitely worthy of being mentioned since it also shows that political interference does not (always) work:
Source: The Block exemption for shipping companies
The EU commission, back in 2009, allowed container shipping companies to continue to work together in consortia, provided they would not control more than 30% of the market. This exemption, better known as the block exemption, was extended for another 5 years in 2014. And just before the Corona crisis, the EU commission extended it again until the end of April 2024!!!
This exemption allows container shipping companies to coordinate their networks and use space onboard each other's ships. The result of this was the forming of three global players:
2M: Maersk and MSC.
Ocean Alliance: Cosco Shipping, OOCL, CMA CGM, and Evergreen.

THE Alliance

: Hapag-Lloyd, Yang Ming, HMM, and One.
The EU commission thought that the exemption would lead to lower prices and better services for consumers, and whereas it might have worked in the beginning, it is fair to say that this is no longer the case reason why shippers are asking for a re-assessment of this exemption.
Stay safe!