This cashew market report covers information on the current demand, the ongoing freight crisis and some interesting articles, the development of the upcoming cashew crops, and the price discrepancy between the current RCN prices and kernel prices. Looking at the import and export figures from Vinacas, it is safe to say that the Vietnamese cashew industry has had an incredible year. We are breaking all the figures down in the report below.
Import

Vietnam imported a total of 141,926 mt RCN in December 2021, which is almost 26% lower than in December last year. In January-December, imports increased by 81.45% compared to last year, with a total of 3,149,865 mt RCN.
On top of that, Vietnam imported 6,940 mt of raw cashew kernels with Testa, the equivalent of 30,844.44 mt RCN. That is 2% more than December 2020, and overall, imports of kernels with Testa increased in 2021 by almost 52%.
Export
Vietnam exported 50,179 mt of cashew kernels in December 2021. This is almost 5% less than the same period last year. Total exports are about 17% above last year, with 609,260 mt exported since January.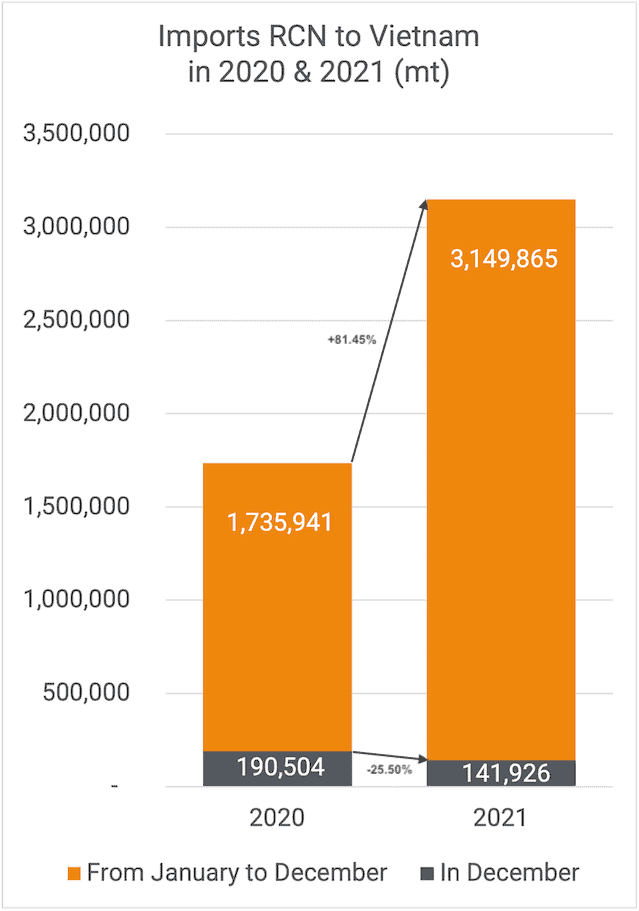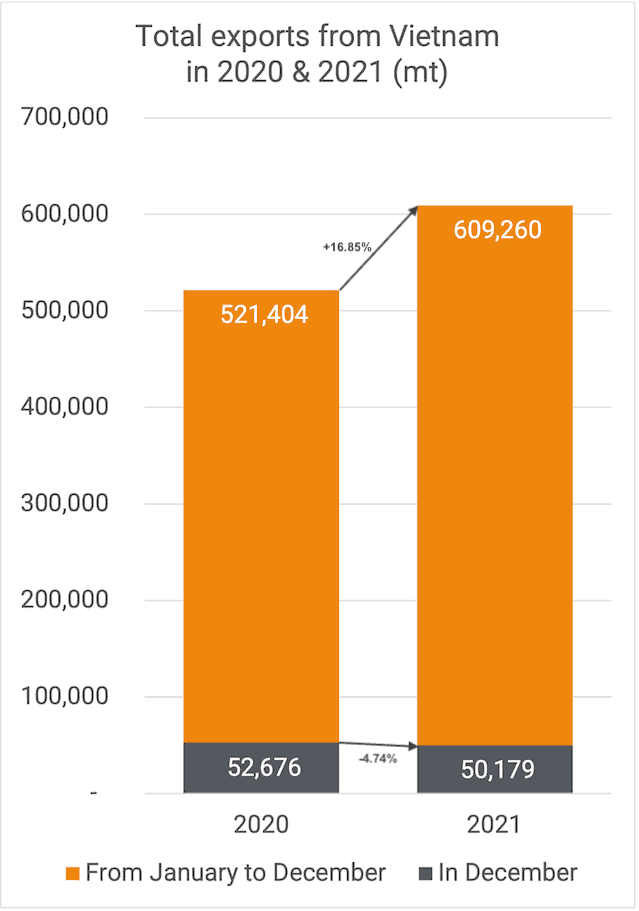 Distribution of the imports
Distribution of the exports
United States
To the USA, Vietnam shipped 11,847 mt in December, which is almost 6% less than in December 2020. Since January, the total exported to the US is almost 9% more than the same period last year, with 106,868 mt.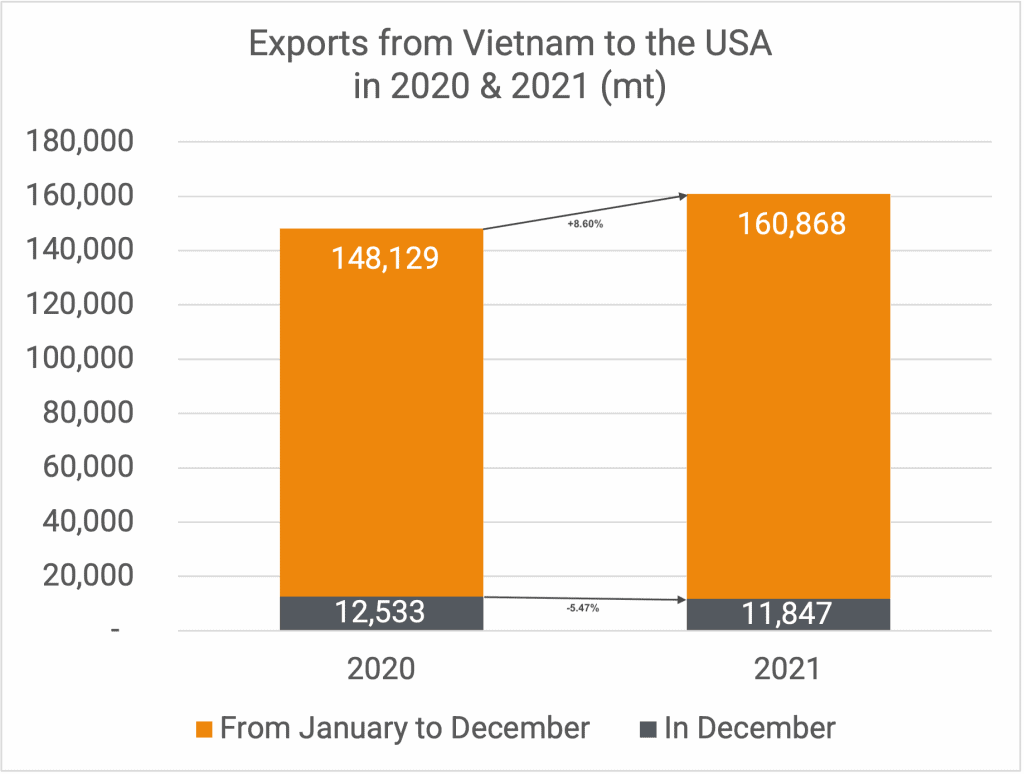 China
7,113 mt were exported to China in December. That is about 8% less than in December last year. In January-December, the total volume exported to China reached 64,324 mt, which is 3% more than in 2020.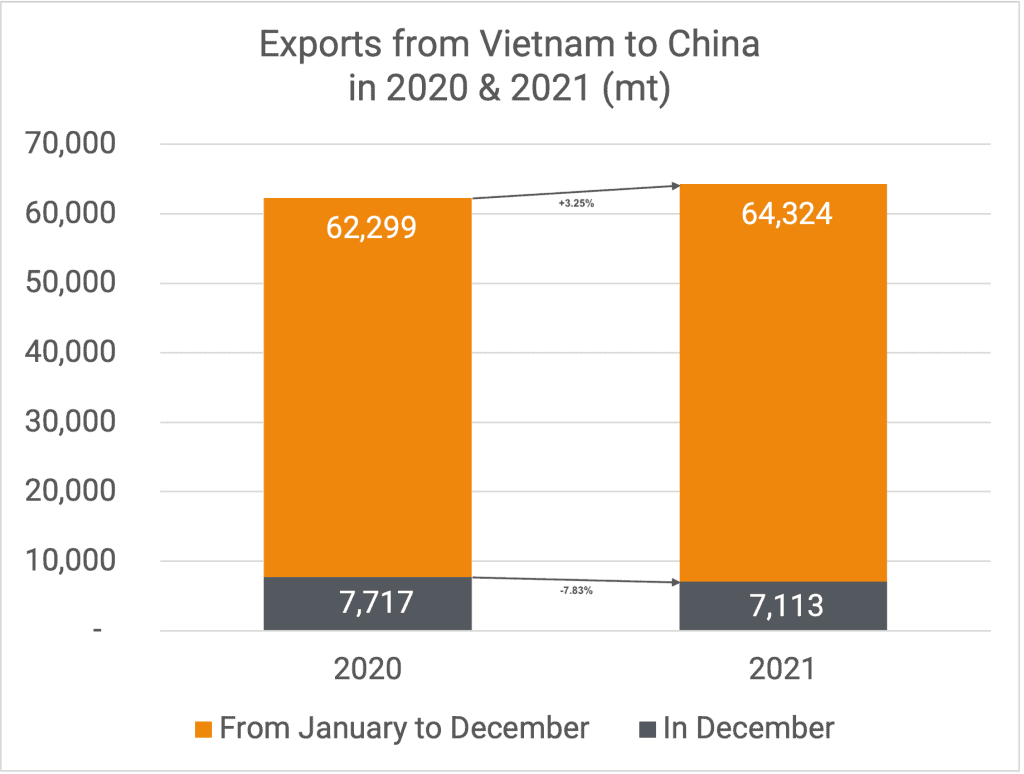 EU & Others
31,219 mt were exported to the EU & Others this month. It is almost 4% less than last year. Total exports in January to December are about 24% higher than last year, with a total of 384,067 mt.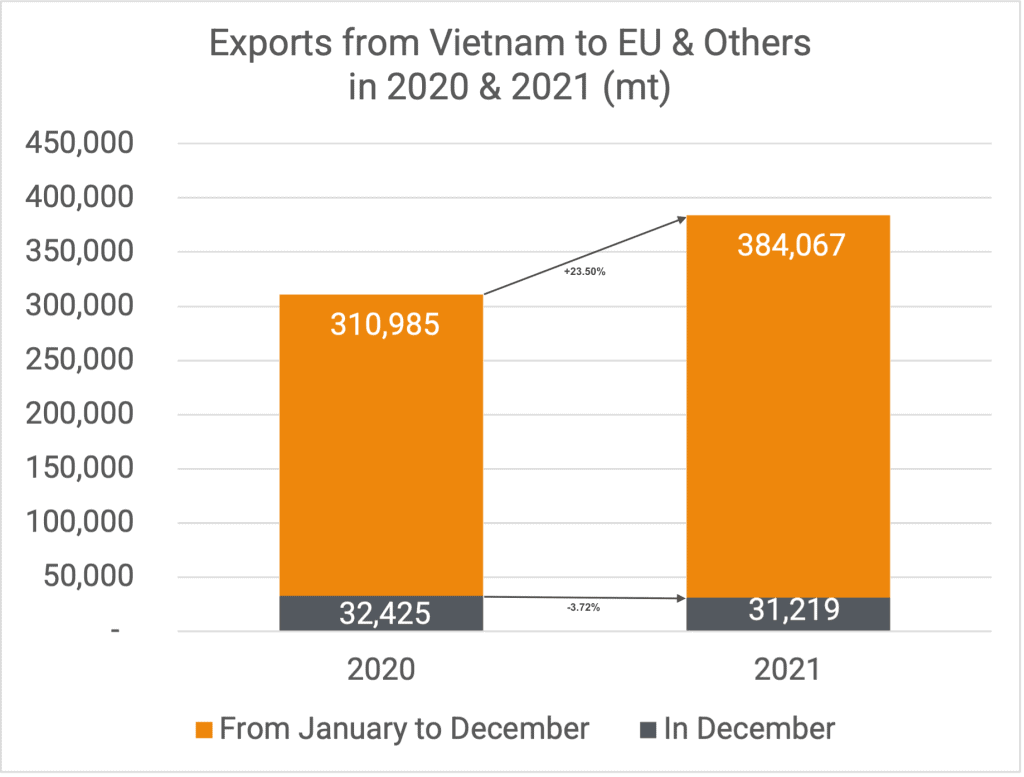 First of all, a bit late but nevertheless, we wish everybody a very Happy and above all Healthy New Year with lots of Prosperity and Happiness.
What an incredible year the Vietnamese cashew industry has had. We already talked about it last month, but we thought it would be good to break down the figures once again since we now have all figures for 2021. Importing a record 3,149,865 mt of RCN plus 88,203 mt of kernels with Testa (the equivalent of about 390,000 mt RCN) so, in fact, a total import equivalent of about 3,5 mln mt. Against that also a record number on the export of kernels, namely 609,260 mt.
If we, however, calculate with a kernel outturn of 22,5%, we see that 3,149,865 mt produces about 708,000 mt of kernels which, together with the imported kernels with Testa, makes a total availability of about 790,000 mt. In other words, there seems to be still a lot to export from Vietnam.
Demand from Europe and the USA for nearby shipments seems to have come to a standstill. This is not that unusual for the first month of the new year. However, we wonder how long this quietness will continue. Roasters seem to be well covered for the first 4-6 months of 2022. There are abundant stocks available in European and North American ports, but simultaneously we must consider what will and can happen in the next 4-6 weeks.
Because of the quietness in the market and because of the discrepancy between RCN prices and current kernel prices, many Vietnamese shippers are going to close shop earlier for TET (Chinese New Year-1st February) than they usually do. Consequently, the total quantity that will be shipped from Vietnam in the next 4-6 weeks is perceived to be a lot less than the monthly quantities shipped in the last 6 months.
As it looks now, the freight crisis will continue for the next few months, perhaps for the entire year. Due to Covid restrictions and the number of new cases, which means fewer people are available to do the actual work, many ports around the world are closed or working at half of the capacity.
Unimaginable numbers of ships are waiting to enter these ports to unload containers so that both the vessels and the empty containers can be used again. Freight rates have started to go up again, and this is something the industry will have to consider, short term as well as long term. We wanted to point out a few interesting articles that we read about this (if you click on the link, it will open in a new window):
Last week, the shipping line Maersk published an advisory on their website explaining that they are still struggling to move goods worldwide as the easing of congestion is taking longer than they had hoped for. According to them, new Covid-19 outbreak peaks in key regions impact their ability to move cargo. However, they said they are constantly working on improvements. For instance, the waiting time in the port of Antwerp would go down from 10 to 2 days last week, and they have ongoing contingency plans to minimize supply chain delays.
The cashew crops in many producing countries are developing well. We have had reports from Vietnam, India, and Ivory Coast, and these were (very) positive.
In some parts of Binh Phuoc province in Vietnam, farmers told us that if the weather continues to be good in the next 4 weeks, they expect their yield to be 2,5 mt per hectare instead of the 1,5 mt of last year.
From Ivory Coast, we understand that farmers were very happy with the weather during this crop season, with enough and regular rainfall. Harvesting has already begun in some areas, but quantities are still limited.
We are very curious to learn more about the cashew crop in Cambodia since the total quantity Vietnam imported from Cambodia (1,108,443 mt) is still something a lot of people question. The next few months will tell us more about this.
As mentioned in the previous months, there is no problem as far as the availability of cashews is concerned. There is a huge carryover in Vietnam, and new crops of major origins are developing well and looking very good. In addition, there are abundant stocks available.
Couple of things to consider, though: the price discrepancy between current RCN prices and kernel prices. So, the question is: will RCN prices come down, or will we see kernel prices move up?
In that respect, we do want to point out that the holders of the significant stocks in Vietnam will most certainly try to support the market to keep the RCN at current (or improved) prices. As shown in the recent past, these long holders do have the financial capacity to act accordingly. But as many of us know, nobody is bigger than the market.
Pictures of cashew trees - Vietnam January 2022