This is it… Our last cashew market report of 2021! We see mind-blowing numbers from Vietnam, a huge buffer for 2022, information on crop development and harvest periods in Vietnam, Cambodia, India and various origins in West Africa. And this month, there are also several articles that we read and wanted to talk about. Scroll down and read all about it and the breakdown of the Vinacas import and export figures for November.
Import

Vietnam imported a total of 139,818 mt RCN in November 2021, which is about 18% lower than in November last year. In January-November, imports increased by 94.64% compared to last year, with a total of 3,007,939 mt RCN so far.
On top of that, Vietnam imported 7,938.22 mt of raw cashew kernels with Testa, the equivalent of 35,280.98 mt RCN. That is 74% more than November 2020, and overall, imports of kernels with Testa increased in 2021 by 58%.
Export
Vietnam exported 53,403 mt of cashew kernels in November 2021. It is almost 16% more than the same period last year. Exports are about 19% above last year, with 559,081 mt exported since January.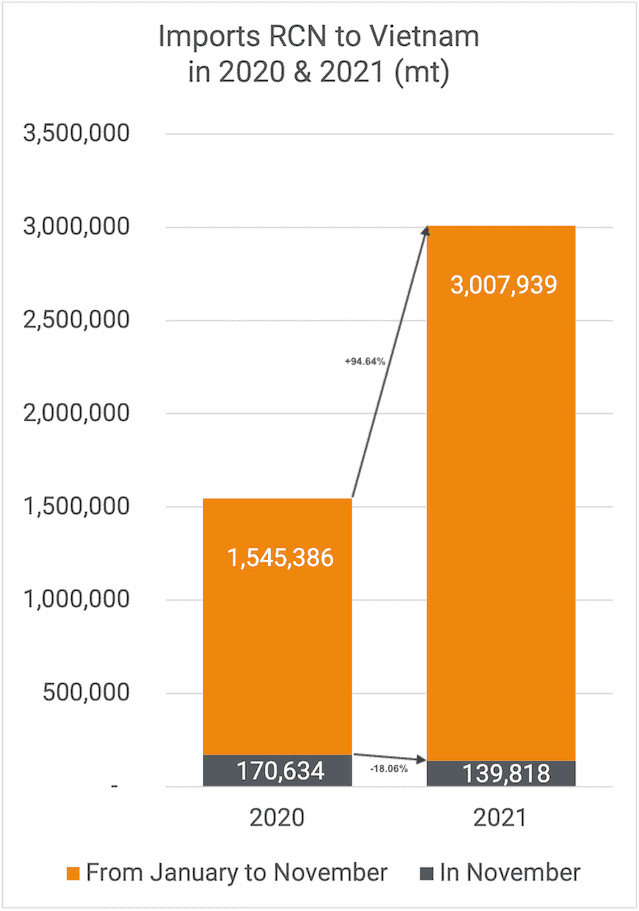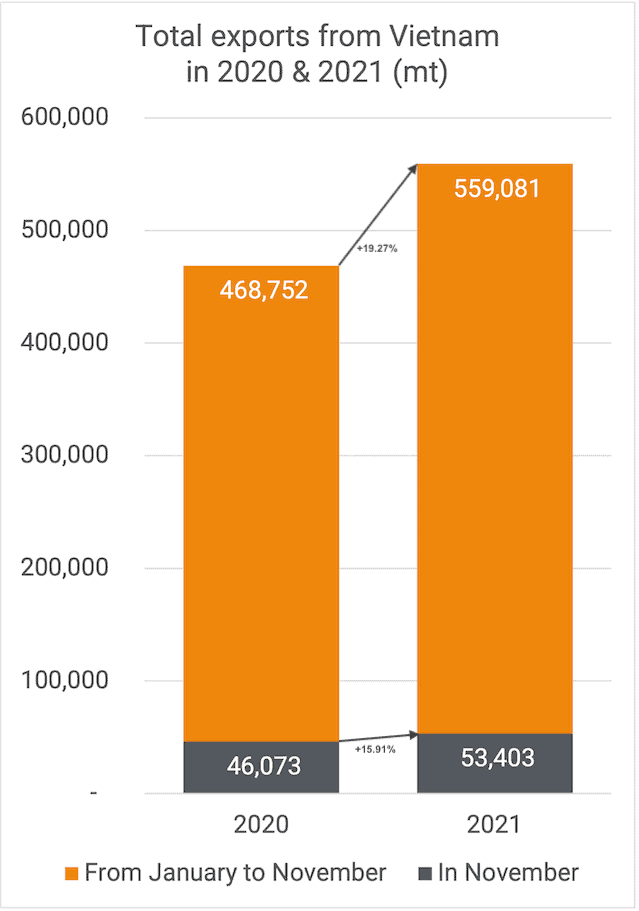 Distribution of the imports
Distribution of the exports
United States
To the USA, Vietnam shipped 12,885 mt in November, which is almost 20% more than in November 2020. Since January, the total exported to the US is about 10% more than the same period last year, with 149,021 mt.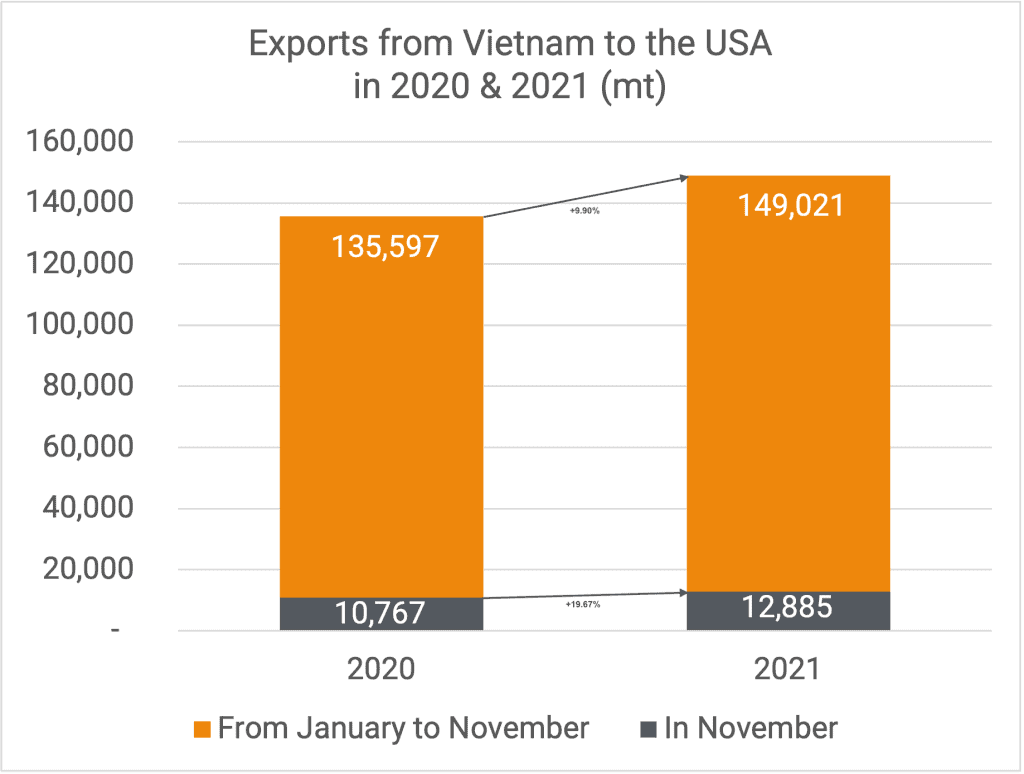 China
7,330 mt were exported to China in November. That is about 10% less than in November last year. In January-November, the total volume exported to China reached 57,211 mt, which is almost 5% more than the same period in 2020.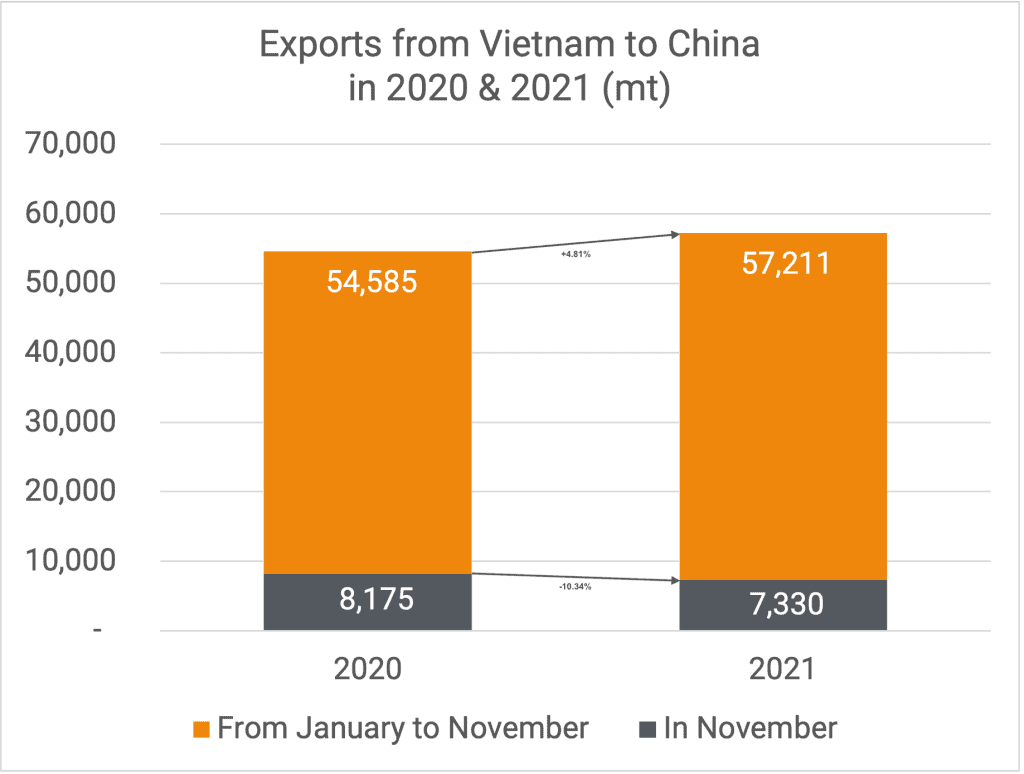 EU & Others
33,188 mt were exported to the EU & Others this month. It is 22% more than last year. Total exports in January to November are about 27% higher than last year, with a total of 352,849 mt.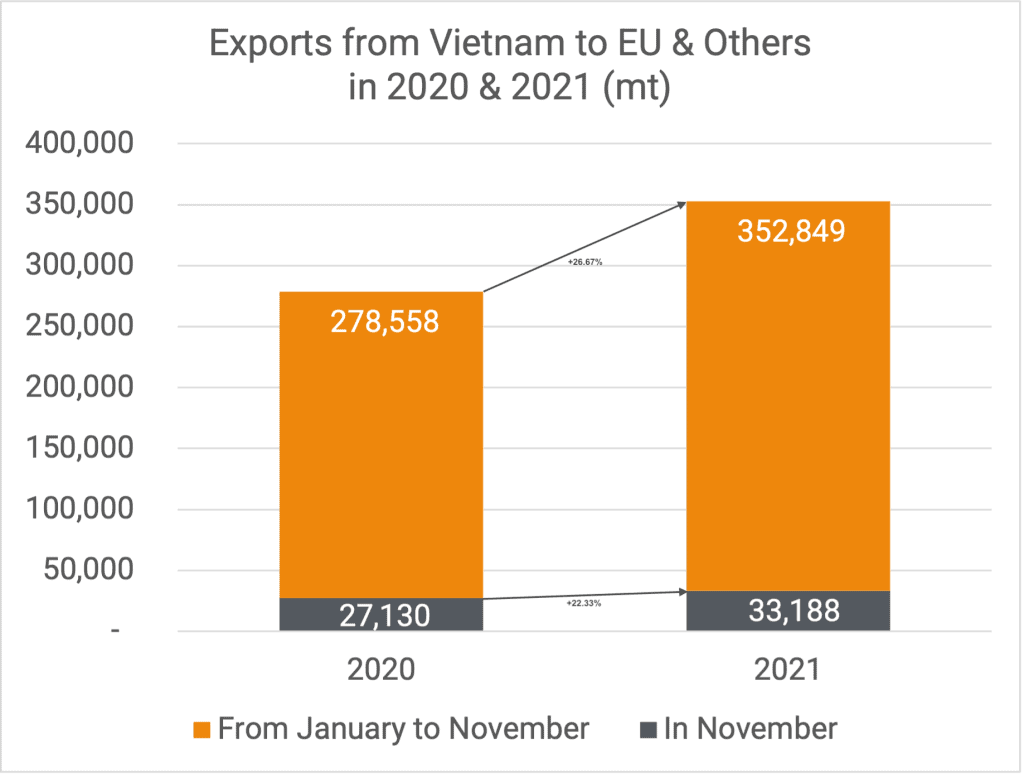 If we look at the November import RCN/export kernel numbers, we see that Vietnam has surpassed the 3 mln ton RCN import mark and has thus far exported a record quantity of almost 560,000 mt of kernels. These are mind-blowing numbers and a remarkable achievement with which we congratulate the Vietnamese Cashew industry. This month is still to go, and we will all know the final figures in mid-January, which will obviously be even higher than the current numbers.
The imports of kernels with Testa never seem to be mentioned or looked at, but this is also a significant quantity of 81,263 mt for January-November 2021. This is (roughly calculated) the equivalent of approximately 360,000 mt RCN! Adding these numbers together, it seems warranted to conclude that Vietnam will go into 2022 with a huge buffer.
The kernel market is as quiet as it can be at this very moment in time. There are basically no buyers for nearby shipments nor for cashews which are being held in warehouses in various ports in Europe or the USA. Even for the 1st quarter of 2022, the market is quiet, and the first possible buying interest we have seen recently is for the 2nd and 3rd quarters of 2022.
In the meantime, the crops are developing well in Vietnam, Cambodia, India, and the various origins in West Africa. Our colleagues in Vietnam spoke to some farmers in the areas of Binh Phuoc, Ba Ria Vung Tau, and Dong Nai, who all reported that the weather thus far has been fine. Temperatures are good, and only scattered rains do not harm the flowers.
The expectation is that the harvest is likely to begin after TET (Vietnamese New Year on February 1st, 2022) festivities, so 2nd week of February… Cambodia will start harvesting a little bit earlier than Vietnam. India has had a lot of rainfall which may cause a slight delay harvesting-wise, but these rains thus far have not been detrimental to the crop. The expectation is that the harvesting will start there 2nd half of February as well.
Earlier this week, this article showed up on LinkedIn. Whereas we feel this article was written by some sort of a spin doctor trying to get the Government of Ivory Coast to consider increasing the export bonuses for exporting processed cashews, we must admit that the interference of companies such as TNT does not add any value to the cashew chain in Ivory Coast or anywhere else in the world for that matter.
For the past few years, the market has kept hearing that TNT is buying a total crop here, 200,000 mt there… And for what remains the question.
They came out of nowhere, trying to make a fast buck, then realized it was not that easy. They started leasing and buying factories in Vietnam and are more of a manipulator/disruptor than a contributor to the market.
This huge buffer we mentioned before is also largely due to TNT who supposedly holds up to 300,000 mt of RCN in warehouses/factories across Vietnam.
Another article which caught our eyes is this one from Commod Africa. This gives us the export numbers from Ivory Coast for cashew kernels and RCN over January-September 2021. The total quantity of kernels exported in the first nine months of 2021 is 24,734 mt. The total quantity of RCN exported in the same time frame is 839,940 mt.
As mentioned in our last month's report, regretfully, it is game on again as far as ocean freight rates are concerned. The rates from Ho Chi Minh City to East Coast USA continue to go up, and even at the increased rates, one is lucky to get a booking. We fear that the many experts, who already predicted that rate increases and availability problems would continue into 2022, were right.
Lastly, we would also like to point you at a very interesting article from the INC, about 6 global trends that accelerated during the pandemic. 
This report is our last one for 2021, which has been a very difficult and challenging year for many of us, and it is not like we are seeing the end of the Covid tunnel yet.
We wish everybody a very merry Christmas. Please stay safe.