The new crop auctions in Tanzania started about a month ago, new crops in India, Vietnam, and Cambodia are about to become available soon, freight rates seem to start rising again, and the kernel market is drifting lower. Read more about this and a breakdown of the Vinacas import and export figures for October in this month's cashew market report.
Import
Vietnam imported a total of 174,701 mt RCN in October 2021, which is 61.25% more than in October last year. In January-October, imports increased by 108.62% compared to last year, with a total of 2,868,121 mt RCN so far.
On top of that, Vietnam imported 8,050.56 mt of raw cashew kernels with Testa, the equivalent of 35,780.27 mt RCN. That is 74% more than October 2020, and overall, imports of kernels with Testa increased in 2021 by almost 57%.
Export
Vietnam exported 56,134 mt of cashew kernels in October 2021. It is 19% more than the same period last year. Exports are almost 20% above last year, with 505,678 mt exported since January.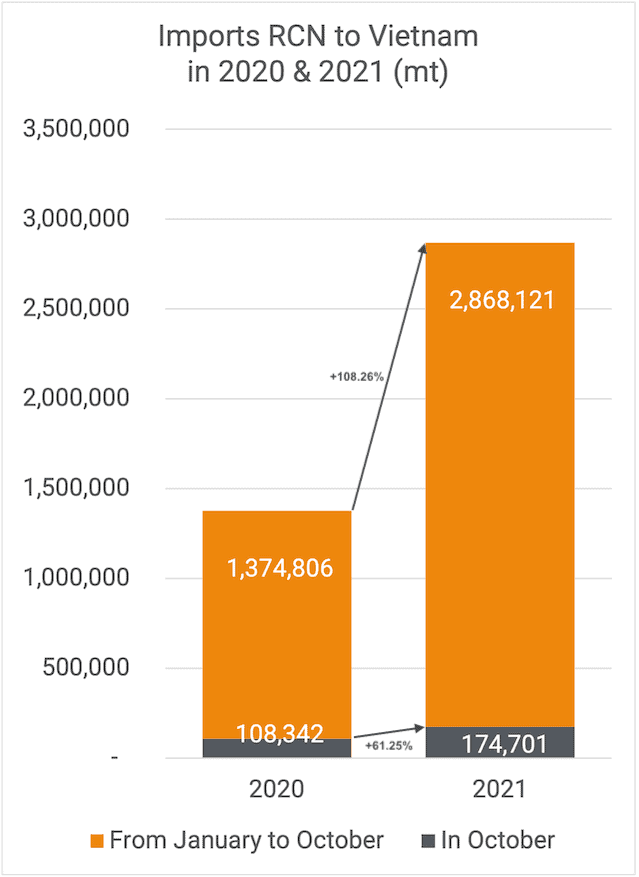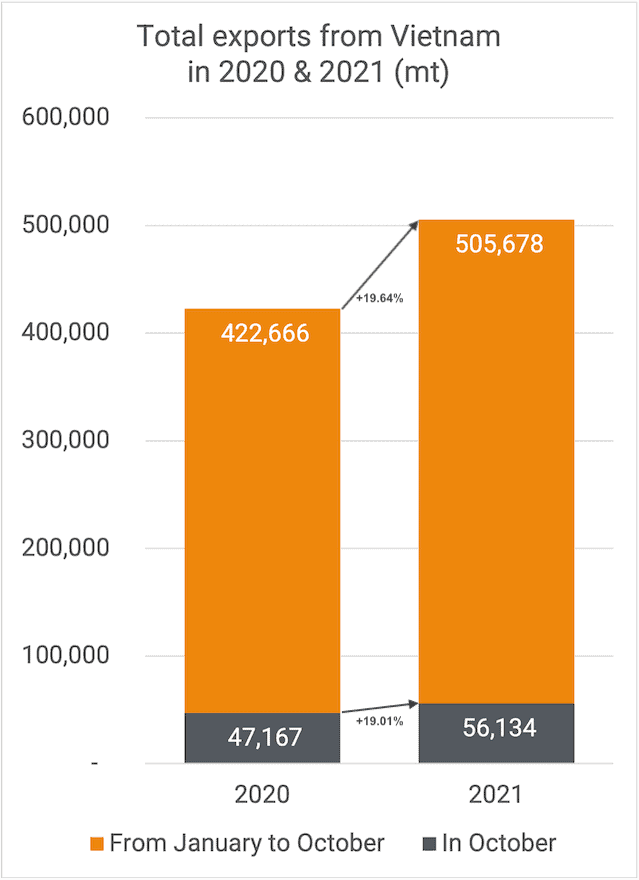 Distribution of the imports
Distribution of the exports
United States
To the USA, Vietnam shipped 14,486 mt in October, which is 29% more than in October 2020. Since January, the total exported to the US is 9% more than the same period last year, with 136,136 mt.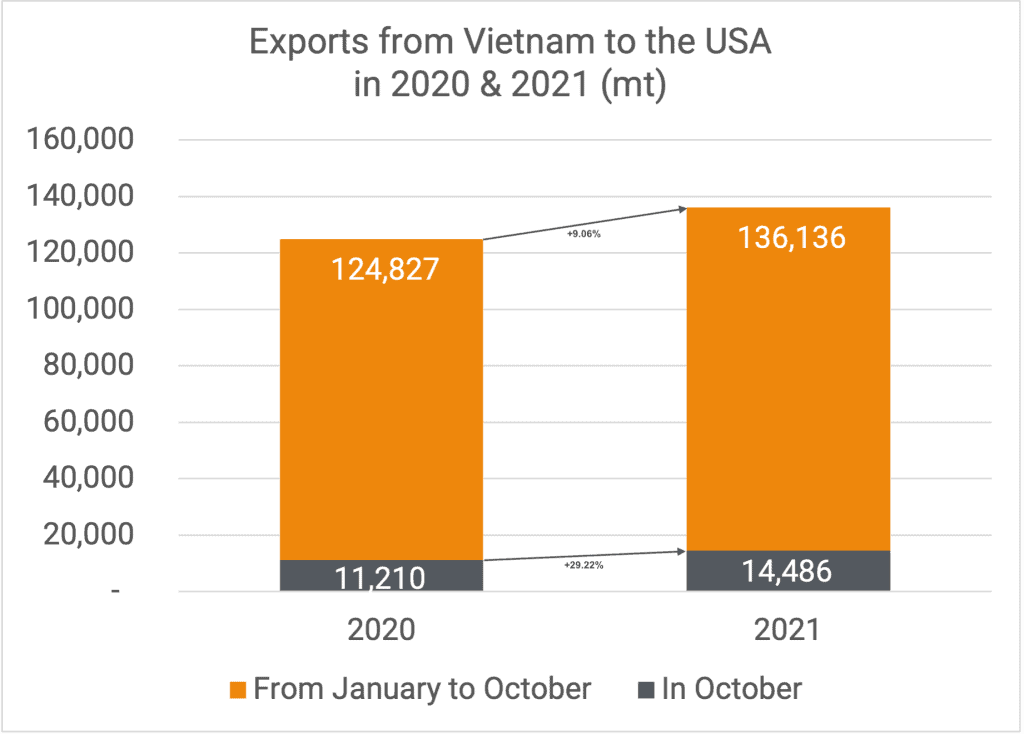 China
6,850 mt were exported to China in October. That is about 27% lower than in October last year. In January-October, the total volume exported to China reached 49,881 mt, which is about 7% more than the same period in 2020.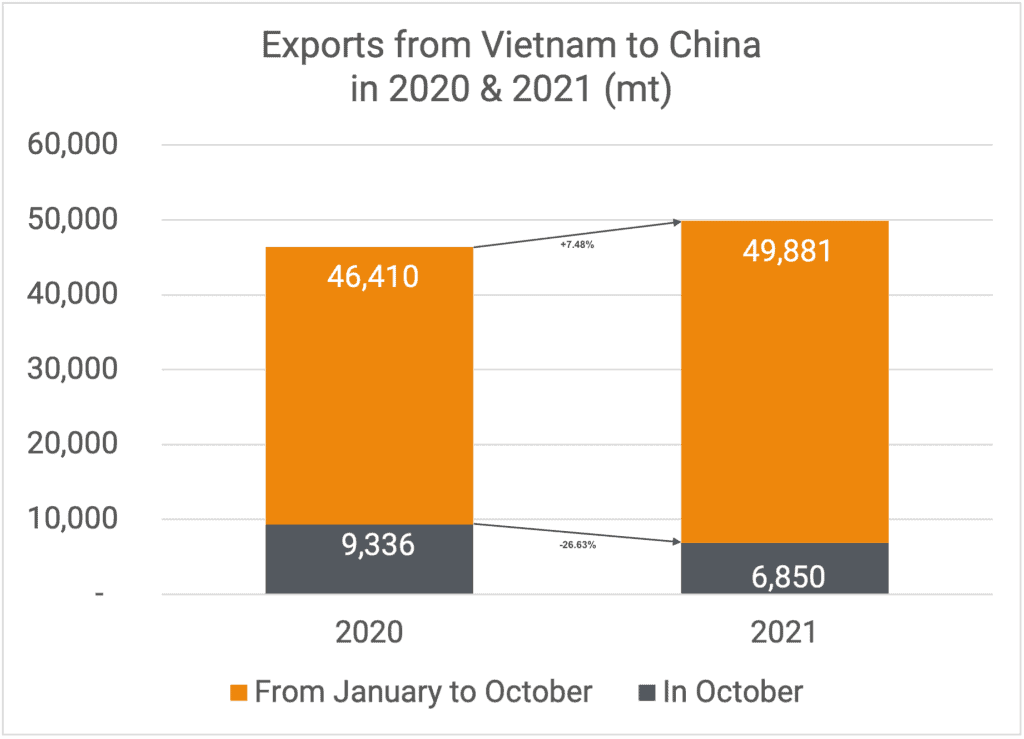 EU & Others
34,798 mt were exported to the EU & Others this month. It is almost 31% more than last year. Total exports in January to October are 27% higher than last year, with a total of 319,661 mt.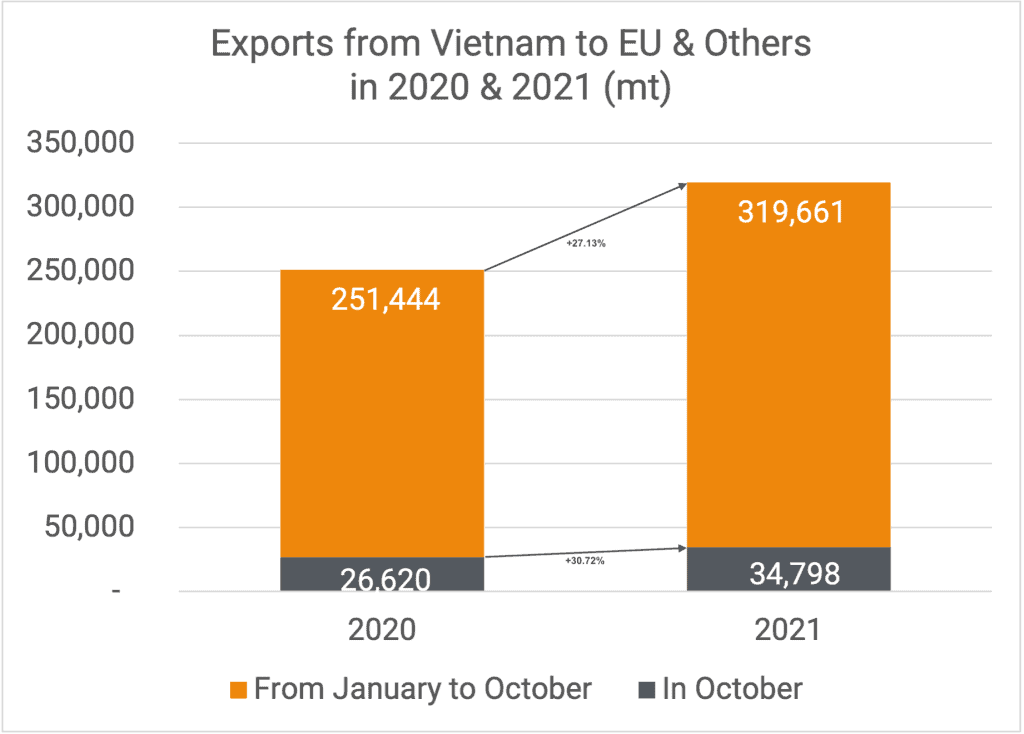 It seems the cashew kernel market is saturated. Buyers are very difficult to find, and those buyers who cautiously show themselves only ask for quotations/offers for the shipment period of March/April 2022 onwards. There is a total lack of buying for nearby, causing the kernel market to drift lower and lower, with W320 prices currently at around USD 3,00 per lb, or even lower depending on which shipper one talks to.
As mentioned and shown earlier in this report, Vietnam imported 174,701 mt for the month of October, bringing the total number for the period January-October 2021 to 2,868,121 mt, an unprecedented number. Rumor has it that about 500,000 mt of these imported RCN are stored in warehouses in Vietnam and are in the hands of financially strong companies. With the kernel market drifting lower, smaller packers are obviously not interested in buying the relatively expensive RCN from these long holders who now also face supplies from countries harvesting their new crop.
New crop auctions in Tanzania started about 1 month ago at prices ranging from 2250-2400 TZ shilling per kg; however, the most recent auction saw RCN prices already in the range of 1900-2250 TZ shilling, basically showing the same trend as the kernel market.
On a side note, earlier predictions were that the crop in Tanzania was around 280,000 mt, whereas nowadays, the expectation is that the crop this year is more in line with that of last year, so 220-230,000 mt.
Considering the above and realizing that new large cashew crops will soon come available in India, Vietnam, and Cambodia, we feel it is justified to state that there are plenty of cashews around (this hasn't changed from what we wrote in previous cashew market reports). India will start harvesting their new cashew crop, abt. 650,000 mt, in January/February 2022; Vietnam will follow with their new crop, abt. 450,000 mt, in February/March 2022, in which Cambodia will also start to harvest their new crop, abt. 1 mln tons.
In other words, on top of the abundant supplies already available, within the next 4-5 months, over 2 mln tons of RCN will be added.
At this moment in time, there is obviously nothing sensible to say about these upcoming crops. So far, we have not heard of any bad news concerning these crops, but the most crucial period, for growth and total production is still to come.
Kernel demand has been very good for the last 12-18 months, and the expectation is that this demand will continue to be strong.
Please note that after a relatively uneventful 2 months with high, but at least, stable ocean freight rates, it seems "game on" again in this sector. We have heard that rates from Vietnam to Europe and the USA are possibly on the rise again and that container availability is an issue again. The biggest problem now seems to be the many ships waiting outside of various ports worldwide that cannot unload their containers due to huge congestion caused by lack of labor, lack of truckers, etc.
The CEO of Maersk spoke at Bloomberg and said that the high freight rates will continue into the 1st quarter of 2022; other experts have already mentioned that the problems will carry on for the entire year of 2022.
Sad to mention, but in Europe, we are witnessing a new surge of Covid, bringing with it lots of uncertainty again. In the Netherlands, we have gone back into a lockdown for three weeks, and in other parts of Europe, leaders are contemplating what to do next.
We sincerely hope everybody will stay safe and wish everybody the very best.