The current market is different from what was anticipated about a month ago. What happened, what prices do we actually (expect to) see now, and what do we expect from the upcoming crops from Tanzania and Indonesia? We tell you all about it in this month's cashew market report, and as per usual, we discuss the breakdown of the Vinacas import and export figures for August.
Import

Vietnam imported a total of 274,736 mt RCN in August 2021, which is 18.59% more than in August last year. In January-August, imports increased by 124.24% compared to last year, with a total of 2,427,092 mt RCN so far.
On top of that, Vietnam imported 6,411.45 mt of raw cashew kernels with Testa, the equivalent of 28,495.33 mt RCN. That is 17% more than August 2020, and overall, imports of kernels with Testa increased in 2021 by 58%.
Export
Vietnam exported 50,747 mt of cashew kernels in August 2021. It is 5.15% more than the same period last year. Exports are still 22.79% above last year, with 395,892 mt exported since January.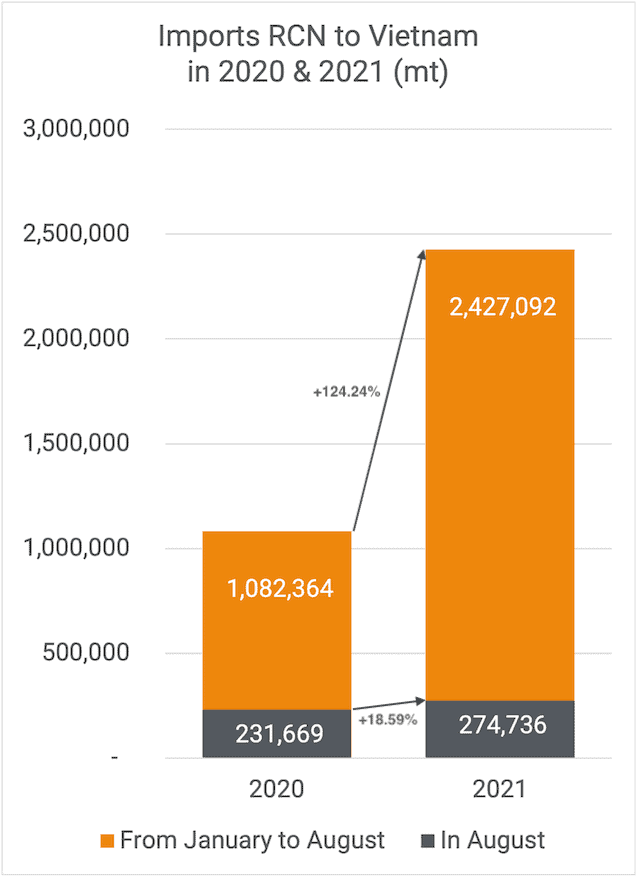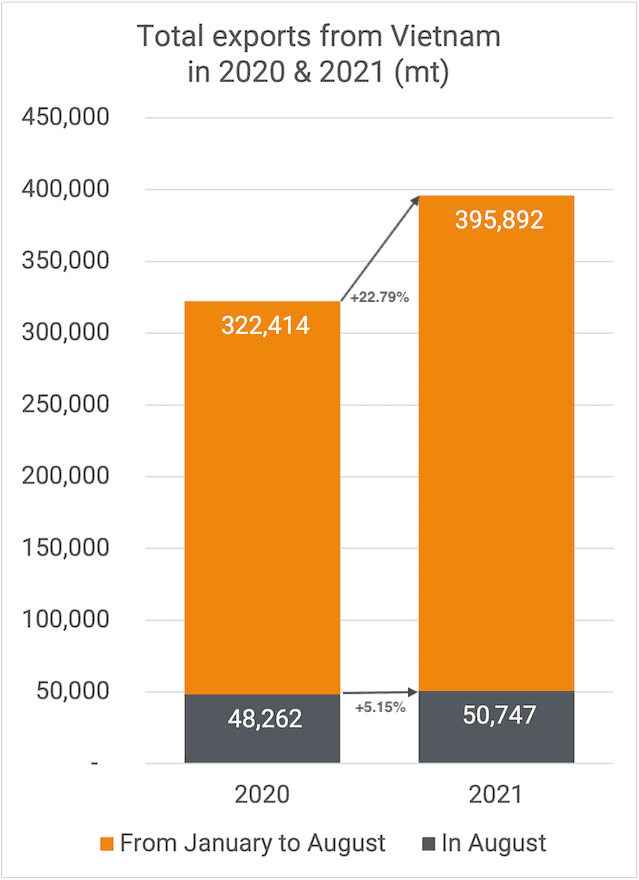 Distribution of the imports
Distribution of the exports
United States
To the USA, Vietnam shipped 15,647 mt in August, 10.28% more than last year. Since January, the total exported to the US is slightly higher than the same period last year, with 107,080 mt, which is 8.15% more.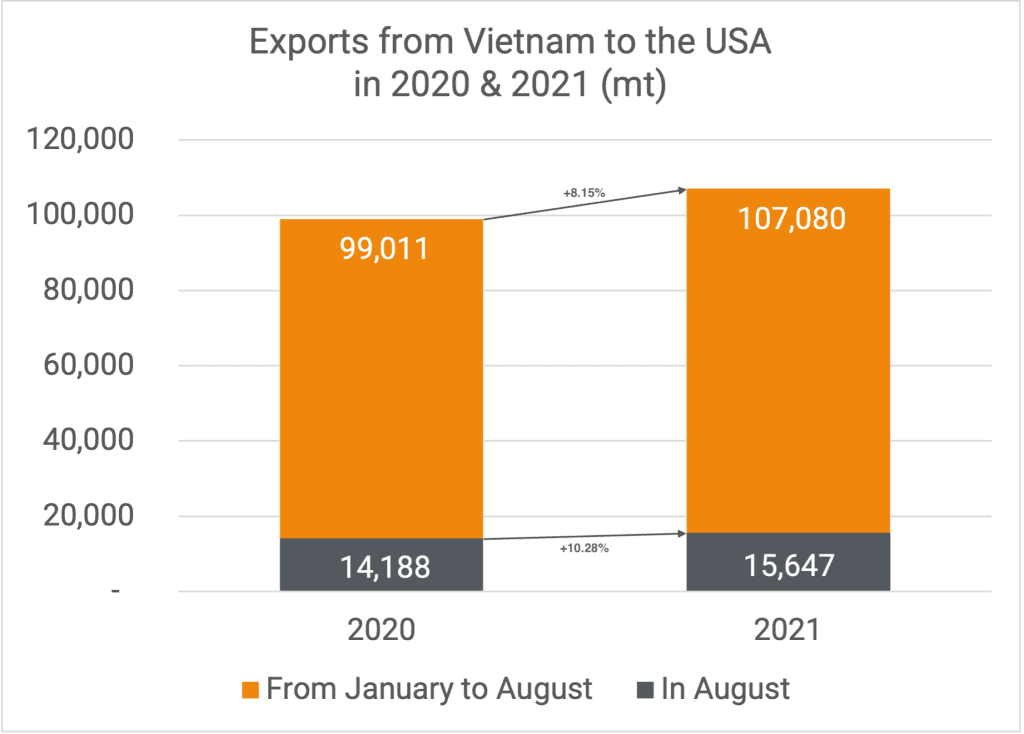 China
4,565 mt were exported to China in August. That is 17.36% lower than in August last year. In January-August, the total volume exported to China reached 36,646 mt, which is almost 30% more than the same period in 2020.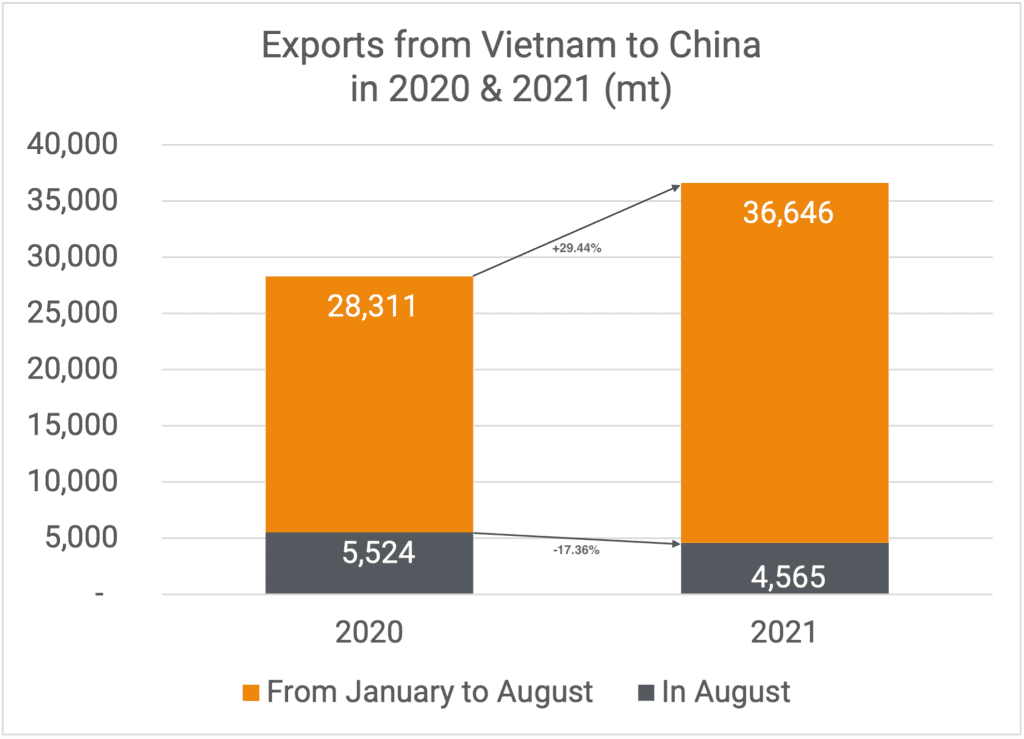 EU & Others
30,534 mt were exported to the EU & Others this month. It is 6.96% more than last year. Total exports in January to August are 29.26% higher than last year.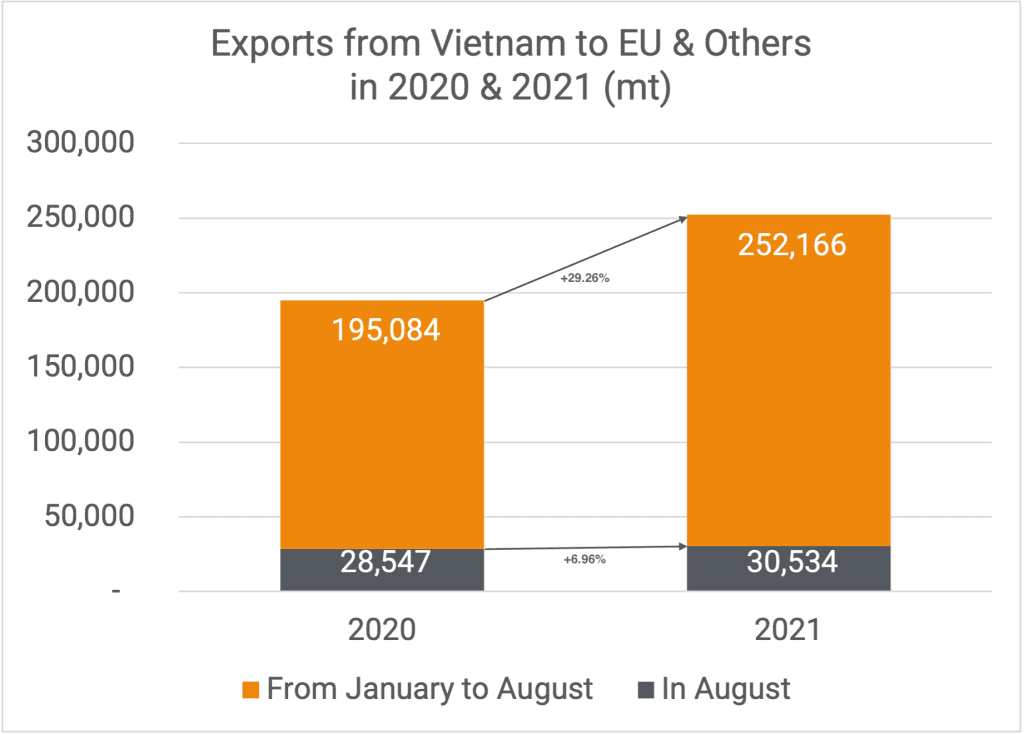 Whereas the market was kind of active about one month ago, at this very moment in time, the market in the EU is very quiet, and even in the USA is not that much activity.
In August, the market was anticipating more buyers coming in to take coverage for the rest of this year and already start negotiations for deliveries into 2022. However, all this expected buying did not materialize or never came to the surface.
With Vietnam importing another 275,000 mt in August, bringing the total of imports to a staggering 2,4 mln tons for this year, we are very curious whether processors can sell the entire kernel production. Through to the end of August 2021, Vietnam's kernel export increased by more than 22% compared to that same period in 2020; however, the increase in imported RCN thus far this year has exceeded RCN imports of last year by 124%.
The next cashew crops available are those out of Tanzania as well as Indonesia. Thus far, we have not picked up any bad news concerning the size/quality of these two crops. So, we assume it is fair to say that the total quantity of these crops will be comparable to or slightly higher than last year (about 220,000 mt for Tanzania and 120,000 mt for Indonesia).
These origins produce RCN with a high outturn; reason why these crops are priced somewhat higher than RCN from Western Africa (except Guinea-Bissau). It will be interesting to see how quickly the available quantities will be picked up by the buyers in Vietnam and India. Prices we have heard for Indonesia 52-53 lbs outturn range between USD 1500-1600 per mt CFR HCMC. Although prices from Tanzania are unknown yet, we expect that market to open around USD 1550-1600 per mt CFR.
The lack of buying interest from the EU and the USA is why kernel prices are declining and are definitely weaker than one month ago. Vietnamese BRC shippers have lowered their prices for W320's from USD 3,30 to USD 3,20-3,15 per lb FOB for the remainder of this year, some even into the new year.
The longer this lack of buying continues, the less interested processors will be to buy expensive RCN. This could create somewhat of a problem for the long holders of RCN who have huge stocks in Vietnam. With major crops from India, Vietnam, and especially Cambodia just a few months away, the window of selling opportunity for stocks of RCN is closing down quickly.
The Covid situation in Vietnam has improved slightly, and whereas the lockdown in Ho Chi Minh City and surroundings is still in place until the end of September, the lockdown in Hanoi is gradually lifted. The number of daily new cases is declining, which is good news.
Some other slightly good news comes from some shipping lines, such as CMA CGM and Hapag Lloyd, who have decided to stop all spot rates increases. This came into effect on 9th September and will at least last until 1st February 2022. But we must say, it is both ironic and sad at the same time to consider this already as good news while the rates obviously continue to be outrageous.
If you have any cashew inquiries, please don't hesitate to contact us.
We hope you are all staying safe!