Where are cashews cultivated? How are they processed? In which conditions? What about the environmental aspects? These are questions that more than 73% of European consumers cannot answer. Consumers in Europe and Northern America are very poorly informed of the cashew value chain, despite their excellent appreciation of the product.
Thus, many are not aware that hundreds of thousands of people in Africa and Asia rely on this commodity to make a living. Farmers, processors, traders and retailers work daily to provide cashews to Western consumers because, except in India, local consumption in the producing countries is very low.
At Cornhouse, we believe that this unique value chain is full of interesting stories. We have decided to share some of them. Our goal is to inform the consumers about cashew consumption's specificities and create connections between consumers and the chain actors.
Today, we start at the beginning of this chain by telling the story of Antoine Kouadio N'Bri. 
He is a cashew farmer from Fari M'Babo, a village close to Bouaké, in Ivory Coast.
Meet Antoine Kouadio N'Bri,
cashew farmer in Ivory Coast
Meet Antoine Kouadio N'Bri,
cashew farmer in Ivory Coast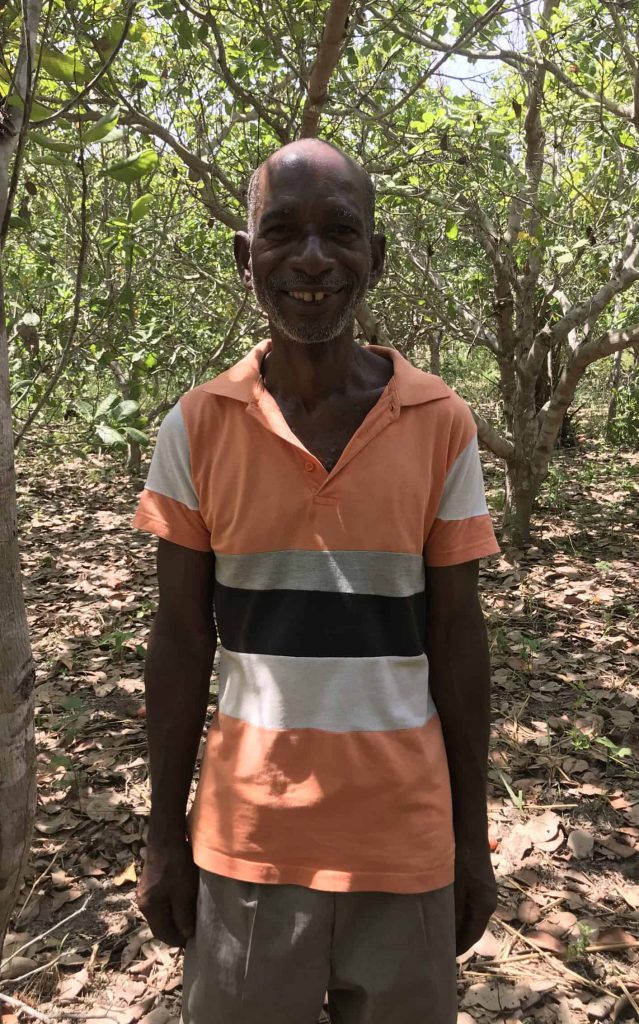 In 2013, Antoine started cashew farming. Before that, he used to be a truck driver. The 7.5 Ha of land he now cultivates with cashews already belonged to him but were unused. Now, he and two of his sons work full time to produce cashews, cassava, yam, rice, peanut, maize, and bananas.
Raw cashew nuts (RCN) are the only agricultural product being sold by the household, and therefore the only product generating revenue. The other goods are used to feed the 12 members of the family. Last year, he harvested 2.88 mt from the cashew trees that were old enough to produce fruits. The income generated through RCN sales is used to send the youngest children to school and to pay for medical expenses.
As we walked together through a cashew field planted about 7 years ago, we observed that the trees were planted about 3 to 4 meters from each other, much less than the 10 meters usually recommended. Antoine explained that when the seeds were sown, 7 years ago, cashew cultivation was still relatively new in the region. Farmers had not yet received any training for it; therefore, they just planted the seeds more or less randomly, as they thought would be good.
Around 2017, cashew farming intensified, and several farmers received training on good practices related to cashew farming. Only then, they discovered that trees should be spaced by at least 10 meters. Thanks to this training, they also learned that fields should be cleared up after the harvest period. Therefore, from June to September (during the rainy season), trees too close to each other are being cut, weeds are removed from the ground, and organic matter is placed at the bottom of each tree to fertilize it. 
These activities, just like the harvest, are very intense. Most of the work is done by hand and requires a lot of workforces. Labor shortages during harvest regularly cause cashews to be left out on the ground because they cannot be picked up on time.
Organization in cooperatives & extension services
For a couple of years, farmers of Fari M'Babo and other villages surrounding the city of Bouaké have received support from the cooperative YABDI. This organization sources RCN from the farmers for local processing industries and exporters. But contrary to other types of middlemen, they also provide extension services to farmers: they give them recommendations on cultivation, harvest, and post-harvest practices to improve the quality of the products, and they help farmers get organized in local cooperatives to sell their products together for a better price.
Thanks to this type of service, Antoine planted his most recent fields with a space of 10 meters between each tree. It also made the procurement of organic certification for many farmers in the village possible.
Although Antoine works and makes decisions alone with his two sons in the fields, he now benefits from the other members' support, thanks to the newly created local cooperative. They exchange advice, and sometimes they work together in each other's fields to perform specific activities such as tree cutting or harvesting.
Challenges and opportunities of cashew farming in Ivory Coast
For Antoine, farming is a passion. He and the other farmers in the village do it because they enjoy being in the fields and find it rewarding to grow the goods feeding their family. 
There are also challenges related to cashew farming. The first thing mentioned is the price perceived at farm-gate, which is sometimes, such as the current year, too low. It doesn't allow Antoine to send all his children to school. Secondly, the shortage of labor is also a challenge. Zero-interest credits can be a solution to allow farmers to hire workers to help with the harvest.
Currently, cashew farming in the village of Antoine and the region of Bouaké remains small-scale and extensive. Initiatives that support the development of the communities and farmers' organizations are helpful for the farmers as well as the rest of the value chain and the consumer. It incentivizes farmers to adopt better farming and post-harvest practices that are key to a better quality of cashew kernels.

Interested in receiving market updates like this, straight to your inbox? Sign up to receive our updates by email!